NOVEMBER 11, 2010
Marussia takes Virgin stake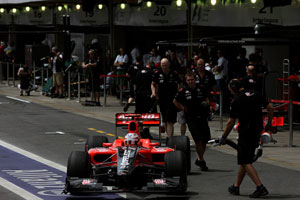 © The Cahier Archive
Virgin Racing will be known as Marussia Virgin Racing in 2011 after selling a shareholding to Russian sportscar manufacturer Marussia Motors, who have been partners since the team's launch.
"Our first year in Formula 1 was always going to be tough - even more so as we were launching in the midst of a worldwide recession," Richard Branson said.
"Virgin is delighted to have secured a partner which shares our vision and spirit for challenging the establishment and we look forward to working together to move the team up the F1 grid."
Marussia's exclusive B1 and B2 sportscars were debuted at last year's Frankfurt Motor Show and revealed to invited guests at the Monaco GP in May.
Virgin, with its chassis developed by Wirth Research exclusively using CFD (computational fluid dynamics), has often challenged Lotus Racing for the honour of being fastest of the new teams in 2010 and team principal John Booth is confident that further development of the gearbox and hydraulic systems, which have given reliability problems this year, will put the team on a stronger footing next season.
Booth also defended Branson who, some suggest, should have put more investment into the team. "We have to run within our budget framework and I think it's most unfair to suggest that Richard should put his hands deeper into his pockets," Booth said. "He was very brave joining a start-up operation that could have gone horribly wrong and has been supportive throughout. And, in Singapore, through Richard, we got two new sponsors."
One of those new backers has been revealed as QNet, an Asian-based company.
Other stories for NOVEMBER 11, 2010