NOVEMBER 11, 2010
Lotus Racing to go black and gold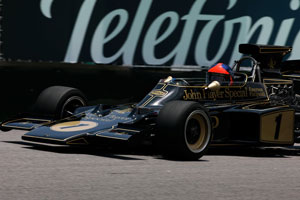 © The Cahier Archive
A few days after rumours that Proton-owned Group Lotus's projected buy-in to Renault F1 could see the cars raced as Lotus Renaults in black and gold livery next year, Tony Fernandes's Lotus Racing has announced that it will be running black and gold livery from 2011 onwards...
With a dispute over the rights to use the Lotus name in F1 still apparently ongoing, the Lotus Racing statement said: "This move echoes the evolution of Lotus Formula One cars of the past by moving from the iconic green and yellow paint scheme of the first season to the much loved black and gold."
Lotus raced in the black and gold of tobacco sponsors John Player Special from 1972-1978 and again from 1981-'86. The team now intends to allow fans to have an input into the new car livery.
Head of marketing Silvi Schaumloeffel said: "We have worked all year to make sure our fans are given unprecedented access to our team. We are all very excited about the move to a black and gold paint scheme for next season, and we want our fans to help us design the livery that will be racing around the world next year. We will shortly be announcing exactly how the fans can take part in our design process, so keep an eye on our website www.lotusracing.my for more details.
"The person who designs the livery we finally choose will be joining us at our first test next year to see the car out on track for the very first time, so for Lotus and F1fans it is the chance of a lifetime to help us take the next step forward."
Other stories for NOVEMBER 11, 2010