Abu Dhabi GP 2010
NOVEMBER 11, 2010
Thursday Press Conference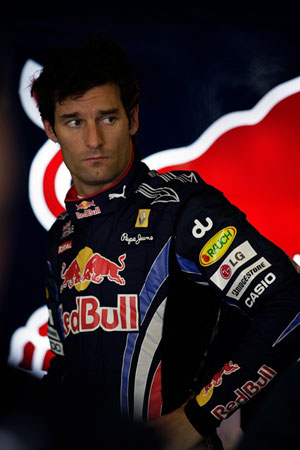 © The Cahier Archive
11 NOVEMBER 2010
DRIVERS: Fernando ALONSO (Ferrari), Lewis HAMILTON (McLaren), Nico HuLKENBERG (Williams), Sebastian VETTEL (Red Bull), Mark WEBBER (Red Bull)
PRESS CONFERENCE
Q: A question to all the championship contenders. How do you approach this race? Do you approach it tactically, just to win, or does the approach evolve during the weekend? Lewis, from your point of view I guess it is relatively simple?
Lewis HAMILTON: For me, I have nothing to lose. The guys in front of me have everything to lose, so for me I am going to be flat out as always. They have got generally faster cars than me but that doesn't mean that we cannot fight for a win. Obviously I have to win this race. That's what we plan to do.
Sebastian VETTEL: Yeah, I am in a little bit of a similar situation to Lewis. It is pretty easy. Some 40 years ago, or a bit more, a Formula One driver said that in these races there is no tactics, the only tactic is to go flat out. The approach hasn't changed for the last couple of races and, for myself at least, it will not change here. It is a long weekend and we try to do our best and ideally try to put us in a similar situation as in Korea and the last race and then we see.
Q: Fernando, you are in the strongest position.
Fernando ALONSO: I think we will still see how Friday goes, how Saturday goes as to how we approach the race on Sunday. I think it will depend on how the weekend is going. We will change the tactics depending on how competitive we are or which positions we are.
Mark WEBBER: The same as Fernando. We will see how the weekend shapes up but Fernando is in the best position. Then it goes a little bit down after that, so looking forward to it. It should be good.
Q: Looking at this circuit, the strengths of your cars around this track. Where are your cars particularly good for this circuit? Nico, I know you haven't been here before?
Nico HuLKENBERG: That's why I don't know. I think in Brazil it showed in the Sunday race that it was pretty tough for us to keep up with the big boys. The pace wasn't quite there, so I don't expect any magic here. I think it will be as always from around P8 to P12, that's our range. I would be very happy if we could squeeze it into the points again.
Q: Lewis, your car's strengths around here?
Hamilton: We have got a good engine. We have got relatively good downforce. I think in general we are quite quick down the straights. Maybe we have a little bit less downforce than the guys in front, so the straight really is our main strength. There are quite a good few straights here, so overtaking is definitely not impossible here.
Vettel: Corners. But I think the last couple of races we were also quite competitive with our F-duct getting better and better. We shall see. It should be okay.
Alonso: Well, I think we don't have the cornering speed of Red Bull and maybe we don't have the straight line speed of McLaren but that has been more or less the season so far for us. We are not the best in the straight line, we are not the best in the corners, but in general overall we are always quite competitive. We can adapt to any circuit in a good way, so I feel relatively confident for the performance of the car but let's see how it is going.
Webber: Same again.
Q: Nico, after the pole position in Brazil has your position for next year changed in the team? Do you know what you are doing?
Hulkenberg: No, unfortunately not. There is still no news regarding Williams. For me the most important thing is to remain in Formula One next year and that's the main aim.
Q: What really clicked in Brazil or was it just the conditions and you were there at the right time?
Hulkenberg: I think it was a few circumstances. We had a very good tyre pressure. I was very aggressive from the out lap with the tyres and that is why every lap was getting better and better. I was just getting more temperatures into the tyres and my car worked very well at that stage. If you see the on-board TV it was a very tidy lap with no mistakes in the conditions and I think all that together meant the pole position for us.
Q: To the remaining four title contenders. If I might ask your engine position as, of course, one or two of you have had engine problems in the last couple of races. Have you got one engine to use for the whole weekend or are you going to be chopping and changing? Lewis, what is the situation?
Hamilton: We are in quite a strong position with engines. Mercedes have done a great job. We have worked very hard over the last few years with the engines, so we have been very, very fortunate this year. The reliability has been fantastic. Hopefully that will continue this weekend. We have got quite a fresh engine that hasn't done many miles, so hopefully in a slightly better position than the guys in front.
Vettel: We have a Friday engine and spares if something goes wrong. Then for the weekend we have the one that was in the car in Suzuka for one race, so it should be fine but probably a bit similar to Fernando if something goes wrong it is not looking too good.
Alonso: We have one of the eight engines on Friday and one for Saturday and Sunday.
Q: So it has still got some mileage?
Alonso: Plenty.
Q: Mark, what about the engine that you had in for Brazil which was overheating?
Webber: Yeah, that was a big concern in that particular event. We are going to use that engine again in the first part of the weekend. Have a look at it. Also just for a bit of peace of mind to understand what the problem was, so we are going to do that. Then for Saturday and Sunday we have a pretty decent engine ready to go. It should be alright.
QUESTIONS FROM THE FLOOR
Q: (Juha Paatalo - Financial Times Deutschland) This one is for all the title contenders. On Sunday there will be one guy who will be the World Champion and the three others of you will not be. If you are not the one how much of a disappointment will it be?
Hamilton: I think it will be less disappointing for me as I am so far back. I think for us we have had an interesting year. Happy to be here still kind of fighting for the championship with a still relatively small chance of winning the championship. We have given it our all this year and that's all we could really hope for. The others guys have generally done a slightly better job and we look forward to next year. I am just happy to be here. It is kind of cool to still be in the mix, just on the edge, like being on the edge of the green.
Vettel: I think it is a little bit similar to Lewis. The target is clear. The speed has been there all season and it hasn't been the easiest season for myself. But we are still in the hunt, so that is good. We try our best. The clear favourites going into this weekend are Mark and Fernando. As I said, similar to Lewis, I try to do my best race and then it depends where those two guys are.
Alonso: Obviously, you feel sad if you lose in the last moment. My case, I will not really have anything to be disappointed about in 2010. The last two years I was fighting to be in Q3 most of the times. Ferrari had a tough year in 2009 as well, so this first year of the relationship we are fighting for the world championship in the last race of the championship against two Red Bulls who are dominating by far the season in terms of speed, so overall I think it doesn't matter on Sunday. It will be a great memory of 2010 to have challenged.
Webber: Yes, similar to the other guys. I think you are going to be disappointed if it doesn't happen initially. But there have still been a lot of positives this year. I don't think my odds were too good at the start of the year to be fighting for the championship. My odds are much shorter now, so I still have a good chance. I will deal with what happens on Sunday night after that.
Q: (Adam Hay-Nicholls - Metro) Fernando, there have been a number of parallels between your career and Mark's. Mark started at Minardi a year after you, you've had the same manager. I just wondered what your thoughts were on Mark as a competitor.
Alonso: Well, I think there's nothing to say. This year he has proved how quick he can be in a competitive car. We both started at Minardi and then I was at Renault; he was very close to driving for them as well during the good years, so he missed that opportunity. Now, after a few years he has the opportunity to drive a competitive car and he's already fighting for World Championships, so I'm happy for him. He shows the potential and the talent when you have a competitive car; when you don't have it, it's obviously difficult but I'm happy for him.
Q: (Livio Oricchio - O Estado de Sao Paulo) Probably the most common question; if Vettel is leading the race, Webber is in second place, Alonso is third. The race is finishing. What will you do, Vettel?
Vettel: I'm Sebastian, OK? I said last Sunday when I was asked the question and I said that I was going to tease you and if we find ourselves in that situation, you will see what happens on Sunday. Come on, it's only Thursday today, just three more days. We will see.
Q: (Paul Gover - The Herald Sun) Obviously it's been an up and down year for you, Mark. Would you still describe it as the best year of your life? How do you look back on it now? A troubled year or a great year?
Webber: Oh, a lot of positives mate. It's human nature always to want more. Of course it would have been nice to close the championship out and be here as World Champion. All of us would love to have done that but at the end of the day, the way the championship has been, I think if there were even two or three races after this one it would still go down to the last race. No-one has ever had a 25 point lead. It's been a very long season for all of us and as the season's gone on, we've achieved so many amazing things, and obviously, personally, for me, to have some very special weekends. I'm fully respectful of the guys I race against and that's what you get out of bed for, to try and beat them. So to have some of the victories that I've had this year, and even some of the second places to be honest, they are not as sweet as the wins, but some of the seconds... I've had some good fights with Seb and they have been rewarding. Quite a few podiums, the team's won the Constructors', we could obviously put the icing on the cake on Sunday which would be nice, but it's been an absolutely incredible year for me personally and obviously for the team. So I don't look on two thousand... if we don't get the championship, for sure, OK, there's going to be a little bit of a small hole there but a lot of great memories still.
Q: (Bob McKenzie - The Daily Express) Fernando, on Sunday Jenson said you had had a great year, but he hoped that you would win the championship by at least seven points more (than your nearest competitor). What do you feel about that, do you feel also that you should win by seven points more? Do you feel that maybe you should not take advantage of the seven points' cushion that came through Germany?
Alonso: I think winning by seven, one or 25 is the least important thing in my mind now.
Q: (Jonathan Legard - BBC Sport) Mark, all around you are surrounded by four drivers who are younger than you. How do you manage the thought that this may be your best chance, your only chance of the championship? If isn't doesn't come off...?
Webber: I don't know if it changes your thinking too much to be honest. I'm going to be here again next year. Of course the longer you drive, obviously, the odds are going in one direction. I'm not going to be around forever, I clearly understand that. These guys will have... (sound of dog barking) It's a dog! There's no dogs allowed in the paddock actually.
Alonso: It's a hot dog.
Webber: A hot dog. Yeah. These guys have more opportunities mate, of course. As Fernando alluded to a bit earlier in some of his answers that if you get a car like this when you're 24 or 25 for sure, so you can probably look at it more that way, that obviously I didn't really have a winning car earlier in my career which is the case for lots of people that come into Formula One. I now have that, been very successful at the back part of my career if you like, and hopefully I want to do it on Sunday, of course. If it doesn't happen, I'll obviously have another crack next year. It doesn't change too much of my mentality mate. I know that I've been very fortunate even to have a chance to get to this point. I'm not getting too... not greedy but I know that it was good to have a chance that I've grabbed with both hands if I can.
Q: (Ralf Bach - R&B) Fernando, under normal circumstances, Sebastian would have won the last three races. I think that's clear to everybody. Do you trust in the Red Bull guys concerning that if we have the same positions as in Brazil, that they will maintain their positions or do you think it's not your turn to take all the risks to beat one of these guys?
Alonso: I think there's not anything we can do other than try to finish second or first in the race, that is mathematically our position to win the championship, so it's our goal, from tomorrow Friday to Sunday, our preparation will be to reach that target, being on Saturday on the first row if possible, pole position would be welcome as well, and then in the race, being first and second is our only target. It's true that if we are not first and second, we will see how are the other positions, but it's not our job to believe or not believe.
Q: (Ian Parkes - The Press Association) Sebastian, you've turned round and said that you're going to tease us, the media, through to Sunday. How about Mark? Are you going to tease him through to Sunday as well? Does he have to wait until Sunday to know what you're going to do? Are you going to have any kind of discussion with him to let him in on your plan?
Vettel: Ask him. Maybe he will tease you too, I don't know. I think it's pretty clear again. I had the same line in Brazil. There are lots of things happening, and more important things happening before we enter this possible stage, whatever the scenario. So I think we have to focus first of all to get the car ready tomorrow, prepare it, have a solid qualifying. Last year was a very tricky session here I remember, so there are lots of things to do, things that we should spend our energy on, more important than... What happens on Sunday, if the situation - to answer your question - if the situation occurs, then I think we know that we're driving for the team, we have had some occasions this year where we got close and it didn't look too good, so I think the main target is not to repeat that and the rest we will see.
Q: (Cedric Voisard - Le Figaro) Lewis and Fernando, apart from the points, is there any cycle advantage due to the fact that you have already been World Champions?
Alonso: I don't think so. I think arriving to this point, with one race to go, in a way we all depend on ourselves to win championships. If we win the race all of us have a strong possibility. I don't think that there's any advantage, experience or whatever. It's true that for the last six years I have fought in the last race for the World Championship in four of them, so this feeling isn't new. As I said, after Singapore, I think I prefer a new front wing in this race than all the experience I've got. I prefer a little bit extra performance than experience.
Hamilton: I don't think it's an advantage. I think it's good, obviously, having the experience of having the pressure, right down to the last race and being in for the fight for the World Championship but that doesn't necessarily mean that the others... Sebastian and Mark have been in those positions in lower categories, perhaps, so it's not an experience that they haven't experienced. I don't see that there's a particular advantage but it definitely does help. I feel quite comfortable being here, having had the experience in the past, I can perhaps do my job at a more relaxed mental state than perhaps I had in 2008, 2007.
Q: (Tobias Holtkamp - Bild) Fernando, would you understand if the two Red Bulls would change their positions in front of you on the last lap on Sunday?
Alonso: I don't think I would lose even one second of my energy this weekend thinking of what is going to happen on Sunday afternoon. There is much more to do: Friday and Saturday preparing the weekend in the right way, and as I said, our only picture of the race at the moment is winning it or finishing second. That's the target and I think that's what we're going to achieve this weekend.
Q: (Steve Dawson - ESPN and Star Sports) Fernando, are you expecting Felipe to get amongst the Red Bull drivers and help you out or are you going to be on your own on Sunday?
Alonso: I think that will obviously be great news for us, if the car is competitive as it was on some occasions this year, in Germany for instance, Singapore, Monza, Bahrain. They were circuits where both Ferraris were able to be on the podium and if we are both on the podium, that will be a huge help for me, because we will take a lot of points. For sure, a perfect weekend for Felipe, even winning the race, will absolutely be a present for us.