OCTOBER 5, 2017
Magnussen says F1 rules nonsense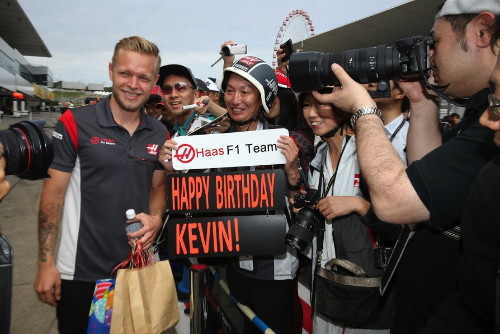 © RV Press
Kevin Magnussen has described as "nonsense" the amount of penalties handed out to F1 drivers.
After run-ins with Nico Hulkenberg, Fernando Alonso and others, the Dane is earning a reputation as a 'bad boy'.
For instance, he told Hulkenberg to "suck my b-lls" during a live TV interview recently, and has taken a strong stance against the safety innovation Halo.
"People must not think that the highway is more dangerous than what we do," he told Germany's Sport Bild.
As for his "suck my b-lls" comment, the Haas driver said it is within the drivers' power to "make formula one even cooler".
"On the track, we have too many rules," said Magnussen, who turns 25 on Thursday.
"Clearly we need rules, but not every single manoeuvre (should be) questioned," he insists.
"The fact that you are not allowed to push anyone out of the track on a straight line is reasonable," Magnussen explained. "But there is a lot of stuff that is complete nonsense.
"They should just let us fight our battles on the track."
(GMM)
Other stories for OCTOBER 5, 2017