JULY 21, 2014
F1 left to muse reasons for small Hockenheim crowd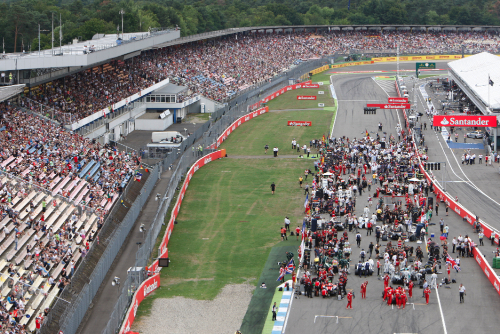 © Active Pictures
Elsewhere in Germany on Sunday, the Nurburgring hosted an event called the 'Truck Grand Prix'.
Watching the unwieldy trucks from the grandstands were about 100,000 excited spectators -- about twice the size of the crowd that gathered at Hockenheim for the 2014 German grand prix.
Bild am Sonntag asked Bernie Ecclestone where all the fans are.
"Obviously not here," the F1 supremo answered.
As far as some are concerned, notwithstanding the big crowds recently in Austria and Silverstone, the unpopularity of the Hockenheim race should be ringing alarm-bells for F1.
"The Austrian grand prix took at least 5,000 spectators from us," track boss Georg Seiler insisted to Bild am Sonntag newspaper.
"And the olympic games and the world cup have just taken place. The world cup was the number 1 issue, with newspapers saying hardly anything about formula one," he argued.
Ecclestone agrees: "Germany won the world cup, and all the sports-mad people bought a ticket to Brazil.
"They're just worn out after so many major sports events," he added.
Both Seiler and Ecclestone also rejected the theory that ticket prices are too high, insisting the prices all over the F1 calendar are similar.
(GMM)
Other stories for JULY 21, 2014