German GP 2014
JULY 21, 2014
Race Report - Rosberg Rules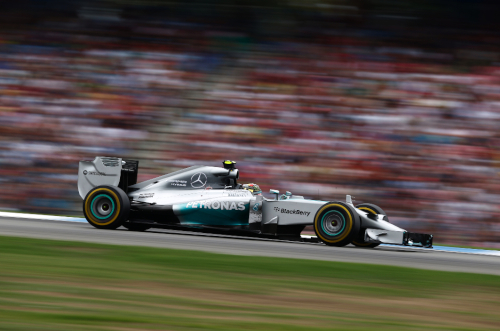 © Active Pictures
Nico Rosberg ruled the German Grand Prix. The German-born Monaco-resident put his Mercedes on pole, zoomed into the lead when the red lights went out, and stayed out front for all 67 laps for a comfortable win 20.789 seconds ahead of Williams driver Valtteri Bottas.
"Wow, what a great day after so many great events for me this week!" he said, referring to among other things getting married and Germany winning the World Cup. "I came here hoping for a win and it worked out perfectly. My Silver Arrow was so dominant, thanks to the team for this fantastic car.
"Before the race I was worried that without the FRIC system the gap in the race would be smaller. But we were again the quickest out there. I did a two stop strategy, which was difficult to manage at the end of the stints as the tires were almost gone. I'm so happy for Mercedes; it was the first win for many, many years in Germany. Thanks for the support here at Hockenheim, the fans were amazing to me. Also at the start I saw a Mexican wave, which was great. Now I look forward to Hungary."
While Rosberg easily ruled the roost, many of the drivers behind him had to fight very hard all the way through the race. Bottas actually was pretty comfortable in second place ''  ® he also qualified second ''  ® but towards the end of the race he had to fend off a charging Lewis Hamilton. Williams put Bottas on a two-stop strategy so he had to do the final 27 laps on Pirelli's soft compound tire.
"I am really happy with the way the race went today," Bottas said after earning his third consecutive podium. "As a team we have been unlucky not to have both drivers on the podium as we had the pace. To keep a Mercedes behind at the end of the race was promising showing that it is possible, and the car is very strong. The engineers shared a lot of information with me about the tires and where Hamilton was and that team work was the key to the good result."
Hamilton was one of the heroes of the race. A crash in qualifying plus a gearbox change put the Mercedes driver 20th on the grid. Undaunted, he set off carving his way to the front. He had many battles along the way including one with his former McLaren teammate Jenson Button. They collided at one stage, and Button's McLaren shredded the right front wing endplate on Hamilton's car.
Hamilton, who started on the soft tires, charged through the field, and when the front runners who had started on the super softs had to pit for new tires, he moved into second place on lap 16. Bottas soon reclaimed second place, however, and pushed Hamilton down to third. As the laps wound down, Hamilton closed in on Bottas.
Hamilton had the super soft tires for his final stint, and as they wore out he didn't have the grip to get by Bottas.
"It was very hard to get through the pack safely," Hamilton said. "I had a little bit of a collision with Jenson. I honestly thought he was opening the door to let me past; he's been a bit like that in the past race for example, so my bad on judgment there. It's very hard to overtake at the end, they were so fast on the straights but I'm very happy I got some points today."
The race started in dramatic fashion when Kevin Magnussen (McLaren) collided with Felipe Massa's Williams and sent Massa barrel rolling through the air. Massa was unhurt but furious at Magnussen.
"For me, he was too aggressive," Massa said. "He tried to brake, but he tried when he touched me. When he saw that he was going to touch he braked and that was a problem because I was already on the gas and he braked and I jumped.
"I was doing my line. If you are doing your line and you are in front, the guy behind needs to see and to brake. I couldn't see him. My line was not so tight; my line was a normal line. If I saw him, for sure, I would do whatever I can not to cause the accident, but it was impossible to see him there. He knew that there were two cars there."
Magnussen, who was able to continue and eventually finished ninth behind teammate Button, said he had no place to go.
"For sure if I had another place to go I wouldn't have had contact," said Magnussen. "I'm sorry about the situation, but I did my best and tried to avoid him, but I didn't really have anything to do. I wasn't really trying to do anything with Felipe so to have contact with him was very unfortunate."
Daniel Ricciardo, who had qualified fifth in his Red Bull, had to swerve around the accident scene and dropped to 15th place. He would charge back to finish sixth and he crossed the line just 0.082 of a second behind Fernando Alonso's Ferrari.
Alonso had fierce battles with Ricciardo and his teammate Sebastian Vettel. The latter grabbed fourth place.
"It was fun with Fernando today," Vettel said. "We started maybe where we left off in Silverstone! It was quite entertaining the first half of the race and at one point it was quite tight with both the Ferraris, but we managed to stay ahead.
"The second stop was a bit too close and Fernando was able to pass without too many difficulties, which put us on the back foot, but we decided to be a bit more aggressive towards the end and make sure we got the undercut and then we could put some gap between us, which was crucial for us as we were quite tight in terms of fuel towards the end of the race. I think that was the best we could get today."
Alonso was pleased to finish fifth.
"We did what we could today and even if as always, we were aiming for a podium finish, the cars ahead of us were just too quick," he said. "It was a good race, even if it was very complex, as we decided to change from a two to a three-stop strategy. It was not easy fighting while also keeping an eye on consumption and in the end, with the help of newer tires, getting ahead of Ricciardo meant we finished in the highest position that we were capable of."
Ricciardo had a huge grin on his face after taking sixth place.
"That was awesome fun, one of my most enjoyable races I've had!" he said. "I mean, not on the first lap, obviously, that was just the wrong place at the wrong time. I wasn't as worse off as Massa and hopefully he is okay. I was on the outside and the collision happened, I had to avoid it and went pretty far down the field, I don't know exactly how far back.
"From then on I just got on to the radio and said let's make an amazing recovery and make ourselves proud today. And I think we did that, we fought hard and we didn't leave anything on the table. These are the moments and battles that I personally thrive off and enjoy. Fernando is known to be a tough racer and I thought who better to have a good fight with. I was on the Primes (soft tires) and he was on fresher Options (super soft tires) and I gave it the best fight I could and, well''  nearly!"
Nico Hulkenberg continued his fabulous streak ''  ® he has scored points in every race this year ''  ® by finishing seventh in his Force India. He, too, was involved in many battles in the race.
"It was a difficult race and different to what we expected, mainly due to the lower temperatures with the track being 20 degrees (centigrade) cooler than on Friday," he said. "We were expecting a lot of rear degradation, but after a couple of laps it became clear the fronts were the limiting tires, and that changed the game.
"It was a pretty challenging afternoon and, considering how the car felt, I think we got the maximum from the race. I also had to overcome some engine issues in the middle of the race because there were some hesitations and it was not driving smoothly. It was a good recovery by the team to solve the issue. It was important to score more points and from that point of view I am feeling satisfied."
Button wound up eighth.
"I got a good start," he related. "I was running as high as sixth in the early stages, so things were looking okay. But I think we got the strategy wrong when we made our second stop. I'm not sure why we stopped so early, but it made it extremely difficult for me to keep the set of tires alive until the end of the race, which was the plan at that point.
"The strategy didn't work out for us, which was a shame, but we'll learn some useful lessons from it. When I felt the hit from Lewis (Hamilton on lap 30), I was a bit surprised. A lot of drivers take a wider entry line into Turn Six in order to get a better exit. Perhaps Lewis expected me to let him past, but why would I let anybody through? We were racing. We expected more from today."
Magnussen and Sergio Perez rounded out the top 10.
"I was hoping for more at the start of the race," Perez said, "but I couldn't make my tires last as we usually do and I therefore struggled with the balance for most of the day.
"It was a very strange race; the track changed a lot compared to Friday and it was the front tires that were suffering from degradation and not the rears. Together with the much lower temperatures, it made the car very difficult to drive. These things considered, to come away with a point was a good result in the end."
Kimi Raikkonen finished 11th and out of the points in his battered Ferrari that was involved in some of the fierce fighting.
"I was going well," he said. "Unfortunately, twice I found myself squeezed between two cars and on both occasions my front wing got damaged and that compromised my race. Tire performance dropped more than expected and I had graining on the front left and was losing aerodynamic downforce.
"On the positive side, I was able to drive the way I like today. I am sure that, but for these problems, things would have worked out differently and I would have been able to finish in the points."
Daniil Kvyat added further drama to the race when his Toro Rosso caught on fire when an ignition problem resulted in unburned fuel igniting in the exhausts.
"The final stint was looking good in terms of pace," he related, "but I suddenly lost drive and I then saw smoke and later flames in the mirrors. I started to feel really hot in the car, so I parked it and jumped out as quickly as possible. It's not a nice situation to be in, but I'm now more concerned about the car than anything else.
"I hope everything will be ok and I will now switch my focus to Hungary, where I hope we can do better."
Rosberg ruled in Germany. Can he rule in the Hungarian Grand Prix next weekend? Hamilton, who has won in Hungary four times, is going to do his best to end Rosberg's reign.