Monaco GP 1964
Monaco GP, 1964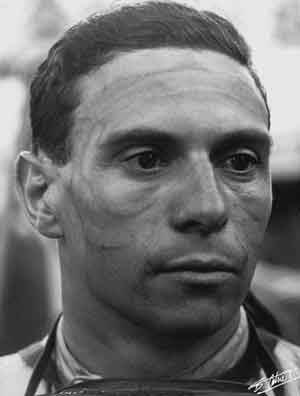 The World Championship of 1964 started at Monaco and there were some important changes to the field that had finished the 1963 season. Team Lotus continued with Jim Clark but Trevor Taylor was dropped in favor of Peter Arundell and (when he was not available) Mike Spence. Ferrari continued with John Surtees and Lorenzo Bandini while BRM produced the new P261 for Graham Hill and Ritchie Ginther. Brabham had the BT7 for himself and Dan Gurney and the BT11 for his customers. The Cooper Car Company team was being run by Ken Tyrrell following John Cooper's road accident the previous year and it entered Bruce McLaren and Phil Hill (the ATS team having given up). Giancarlo Baghetti and Tony Maggs went to Scuderia Centro Sud with BRM chassis once again, while BRP continued to develop its own cars for Innes Ireland and Taylor. Reg Parnell had died unexpectedly in January after an appendix operation and his team had been taken over by his son Tim, who ran a pair of Lotus-BRMs for Mike Hailwood and Chris Amon. The privateer teams increased in number with Peter Revson, Bob Anderson, Jo Siffert and others joining Rob Walker (who ran Jo Bonnier) and everyone waited with interest to see what Honda would achieve with little-known US driver Ronnie Bucknum.

In the pre-season non-championship events Ireland (who was back after smashing his hip in a crash in America) had given BRP a win in the wet at Snetterton, Clark had won at Goodwood and Surtees at Syracuse while Brabham was looking strong with wins at Aintree and in the International Trophy at Silverstone.

At Monaco Clark and Brabham qualified on the front row of the grid with Surtees and G Hill third and fourth. Then came Arundell, Gurney, Ginther and Bandini. Ireland had hurt his knee in a road accident on his way to Monaco and then crashed in practice and did himself more damage so he was a nonstarter.

At the start Clark took the lead from Brabham, G Hill, Gurney, Surtees and Ginther. Gurney quickly moved ahead of Hill and Brabham while Surtees dropped back with gearbox problems Brabham also dropped back with engine troubles. Clark's car had been trailing an anti-roll bar from early in the race and rather than be black-flagged Colin Chapman called him into the pits for repairs. This dropped him to third behind Gurney and Hill. The American then began to suffer from a fuel leak and Hill was able to close up while Clark chased after the pair of them. They were soon together and on lap 53 Hill took the lead. Gurney stayed second but stopped on lap 62 with gearbox failure. Clark could do nothing to catch Hill on this occasion and in the final laps the Lotus stopped with an engine problem, leaving Hill a lap clear of everyone else. Second place went to the second BRM of Ginther with Arundell third in the second Lotus.