French GP 1958
French GP, 1958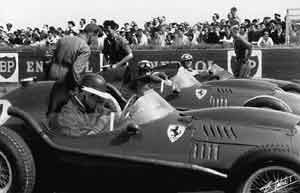 Ferrari had modified the suspension of the Dino 246s and Mike Hawthorn was fastest in qualifying with teammate Luigi Musso alongside and Peter Collins fourth behind Harry Schell's BRM. A fourth car was entered for Wolfgang Von Trips but he failed to set a time in practice and had to start from the tail of the field.

Tony Brooks was the quickest of the Vanwall drivers in fifth place with Stirling Moss sixth and Stuart Lewis-Evans 10th. Maurice Trintignant and Jean were seventh and ninth in the other BRMs while Juan-Manuel Fangio was back in action in a Maserati 250F development car known as the Piccolo. This was shorter and lighter than the original and was prepared by the factory although it was entered by Fangio himself. He qualified the underpowered car eighth.

Also in the field were US racers Phil Hill (in Jo Bonnier's Maserati 250F) and Carroll Shelby and Troy Ruttman who hired a pair of Scuderia Centro Sud Maseratis for the occasion. Hill started 13th with Shelby 17th and Ruttman 18th.

In the race Schell took the lead at the start but Hawthorn quickly caught and passed the BRM. Schell was then overtaken by a gaggle of slipstreaming cars led by Musso's Ferrari. The Italian, Collins and Brooks managed to break away from a wild battle between Behra, Moss, Fangio and Schell. On the fifth lap Collins slid up an escape road and dropped right back after something became lodged under his brake pedal.

On lap 10 Musso was chasing Hawthorn through the high-speed Muizon Corner, trying to take it flat out in order to close the gap between himself and his World Championship rival. He lost control and the car slid across of the road at 150mph and went into the ditch. It was launched into a series of somersaults and Musso was hurled out. He was rushed to hospital in Reims but died later, depriving Italy of its only topline driver.

Brooks inherited second place but he retired soon afterwards with gearbox trouble, leaving Fangio, Moss and Behra fighting over second place, Schell having lost touch with the group. Fangio dropped out of the battle with a pit stop but Moss and Behra continued their fight until the Frenchman suffered a fuel pump failure with just nine laps to go.

Moss thus finished second to Hawthorn with Von Trips third and Fangio fourth. The 47-year-old Argentine would never race in a Grand Prix again.