French GP 1957
French GP, 1957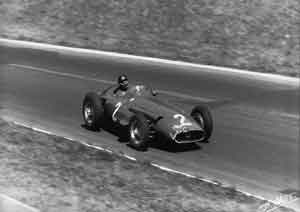 The Belgian and Dutch Grands Prix, which had been scheduled for June 2 and June 16, were both canceled because of disputes over money and so there was a six-week break between Monaco and the French GP. The top teams had changed little although Luigi Musso was back in a Lancia-Ferrari alongside Peter Collins, Mike Hawthorn and Maurice Trintignant. Maserati fielded Juan-Manuel Fangio, Jean Behra, Harry Schell and Carlos Menditeguy. Roy Salvadori had left BRM but for the French race was in a Vanwall alongside Stuart Lewis-Evans because both Stirling Moss and Tony Brooks were out of action, Moss with a sinus infection and Brooks as a result of a crash at Le Mans. BRM ran Ron Flockhart and American Herbert McKay-Fraser.

In practice Fangio was fastest with Behra and Musso alongside on the front row. Behind them were Schell and Collins with the third row comprising of Salvadori, Hawthorn and Trintignant.

At the start Behra went into the lead but Musso soon got ahead. Fangio followed in third with Collins and Schell giving chase. Then came a fast-starting McKay-Fraser. Fangio worked his way past Behra on the second lap and took Musso for the lead on lap four. BRM suffered a setback when Flockhart seriously damaged his car in a high-speed accident, although he himself was not hurt. Collins worked his way past Behra and the order remained unchanged at the front all the way to the flag with Fangio winning from Musso and Collins. Behra slipped behind Hawthorn, allowing the English man to give the Lancia-Ferraris a 2-3-4 finish behind Fangio. McKay-Fraser's promising run ended with a transmission failure at one-third distance but the American would not be seen again in F1. He was to die a few days later in the annual Formula 2 race at Reims.