Monaco GP 1957
Monaco GP, 1957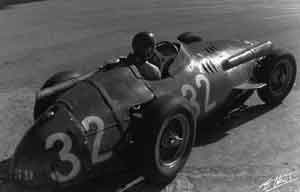 Four months after the opening round of the World Championship in Argentina the Grand Prix teams gathered at Monaco for round two. Stirling Moss had switched to Vanwall (to join Tony Brooks), leaving Juan-Manuel Fangio as the undisputed team leader at Maserati. Ferrari had lost Eugenio Castellotti in a testing accident at Modena and so Peter Collins and Mike Hawthorn were joined at Monaco by Maurice Trintignant and Wolfgang Von Trips. Although Connaught was beginning to run short of money, the team took two cars to Monaco for Stuart Lewis-Evans and Ivor Bueb while BRM sent cars for Ron Flockhart and Roy Salvadori (although the latter did not qualify). There were also a couple of Cooper-Climax chassis for Jack Brabham and Les Leston but they were a long way off the pace

In qualifying Fangio was fastest with Collins and Moss alongside him on the front row while Brooks and Hawthorn were on the second row. Behind them on the 3-2-3 grid were Trintignant and the Maseratis of Carlos Menditeguy and Harry Schell.

Moss took the lead at the first corner with Fangio behind him but on the second lap Collins got ahead of the Argentine driver. This would be his downfall however as Moss went off at the chicane on lap 4. Collins swerved to avoid the crash and hit the wall himself. Fangio managed to get through without a problem and Brooks braked hard only to be rammed from behind by Hawthorn. Only Brooks was able to keep going. but he was five seconds behind Fangio by the time he was up to speed again. Von Trips was third with Menditeguy fourth and Schell fifth. Menditeguy would have to stop early for a new tires after hitting a curb so Schell moved to fourth until his suspension broke. Brabham was next in the little Cooper with Trintignant chasing him but the Frenchman soon dropped away with a stop to cure a misfire. The race became rather dull with Menditeguy providing some action as he charged back to third place, Von Trips having been delayed when Hawthorn decided to take over his car and then gave it back to him after just a few laps. He regained third place when Menditeguy spun midway through the race. In the closing laps there were only seven cars running and this became six when Von Trips suffered an engine failure which pitched his Ferrari into the wall. Brabham was up to third as a result of this but a fuel pump failure left him to push the car to the line. He was classified sixth.

It had been a dominant victory for Fangio with Brooks a delighted second for Vanwall. Masten Gregory was third in his Maserati and Lewis-Evans was fourth with Trintignant fifth.