Italian GP 1953
Italian GP, 1953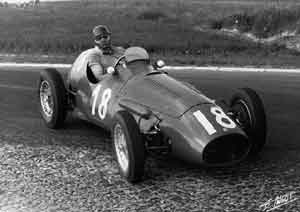 The Ferrari versus Maserati battle continued at Monza although Ferrari's Alberto Ascari had already won the World Championship and Enzo Ferrari had announced that he was withdrawing his team from F1 at the end of the year. This did not stop him entering a pair of Type 553 prototypes for Umberto Maglioli and Piero Carini in addition to his usual team of Alberto Ascari, Gigi Villoresi, Giuseppe Farina and Mike Hawthorn. Maserati was still missing Froilan Gonzalez but ran Juan-Manuel Fangio, Onofre Marimon, Felice Bonetto and Emmanuel de Graffenried and a fifth car for youngsters Sergio Mantovani and Luigi Musso.

In practice Ascari took pole position with Fangio alongside him and Farina completing the front row, The second row of the 3-3-3 grid consisted of Marimon, Villoresi and Hawthorn with Bonetto and de Graffenried being split by Maurice Trintignant's Gordini on row three. Stirling Moss outqualified Maglioli and Mantovani in his Cooper-Alta but the car was still four seconds off the pace of Ascari.

The race saw Fangio make a bad start and so Ascari took off into the lead with Farina behind him. Halfway around the first lap Marimon took the lead from the two Ferraris and with Fangio catching up quickly a four-car slipstreaming battle developed. This would continue for most of the race although Marimon dropped away just after half distance with an radiator problem. He rejoined the race a long way behind but running with the leaders again. The leading trio and Marimon then came upon the dueling Hawthorn and Villoresi and although Hawthorn dropped quickly away there were five cars running together on the last lap.

At the last corner Ascari and Farina were side by side. Ascari spun, Farina went on to the grass to avoid his team mate but Ascari was hit by Marimon who had nowhere to go. Fangio dived through the carnage to win the race. Farina recovered to take second and Villoresi found himself in third place.