Drivers
Alberto Ascari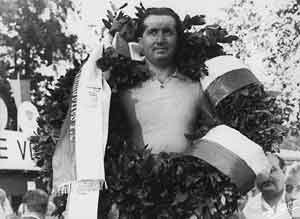 Alberto Ascari was the son of a famous father. Antonio Ascari was the star of the Alfa Romeo team in the 1920s but died in a racing accident at Montlhery in 1925. Alberto was seven and did not look like a racing driver. He was chubby with a jovial air but he had a great desire to emulate his father.

He began racing motorcycles and then at 22 switched to cars, competing for the first time on the Mille Miglia in 1940. His career was immediately interrupted by the war and so it was not until he was nearly 30 that his career really took off. Tutored by Gigi Villoresi he began winning in 1948 and joined Alfa Romeo, his father's old team. In 1949 he went to Maserati but soon switched with Villoresi to join Ferrari.

After two years of Alfa Romeo domination, the formula was changed and the Ferrari F500 became the force to be reckoned with. In 1952 and 1953 Ascari was the man, winning every Grand Prix in which is he competed in 1952 and half of those in 1953. His record of nine consecutive wins remains unbeaten.

After winning two consecutive World Championships Ascari found life more difficult. He had switched to the Lancia team and his only victory was the Mille Miglia as the team was not ready with its planned F1 challenger. Ascari had to make do with a number of unsuccessful outings with a Maserati. The Lancia D50 appeared at the end of the year and Ascari immediately put it on pole position in Spain, leading the race until the car retired.

The Lancia would be a challenger in 1955. Ascari's great rival, Juan-Manuel Fangio, won the first three races that year in his Mercedes-Benz and then at Monaco Ascari got it wrong and crashed into the harbour, emerging unhurt from the experience.

A week later while testing a Ferrari sports car at Monza he crashed at the corner which now bears his name and was killed. The accident had no eyewitnesses and has never been fully explained.