French GP 1956
French GP, 1956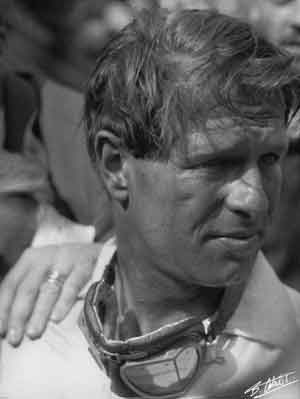 As the teams gathered at Reims there was (as usual) no sign of the BRM team but Mike Hawthorn appeared on loan to Vanwall, replacing Maurice Trintignant who had joined the new Bugatti team. Vanwall had a third car on this occasion with Colin Chapman driving. The cars were quite competitive on this occasion but things were not helped in practice when Chapman locked a brake at the Thillois hairpin while following Hawthorn and the two cars collided - Chapman's ending up beyond repair.

Maserati was struggling and so the front row was all Lancia-Ferrari with Juan-Manuel Fangio ahead of Eugenio Castellotti and Peter Collins. Further back in the field Ferrari had another two cars for the Marquis de Portago and Olivier Gendebien. Stirling Moss and Jean Behra in the works Maseratis were on row three with Hawthorn while the new Bugatti was well off the pace in 18th place on the grid.

The race was a Lancia-Ferrari dominated affair with the opposition quickly fading away as first Schell and then Moss retired with mechanical trouble. Schell later took over from Hawthorn and Moss from Perdisa and Schell was able to catch and pass Collins and Castellotti. Ferrari seemed to be unaware that Schell was in Hawthorn's car but when they realized what was happening Fangio speeded up and both Castellotti and Collins were able to repass Schell, having previously thought he was a lap behind. Schell then slowed with fuel pump problems.

Not long afterwards Fangio had to pit with a leaking fuel line and this dropped him to fourth and he chased after third-placed Behra, narrowly failing to catch him. At the front the Ferrari team ordered Collins and Castellotti to hold station so the British driver crossed the line 0.3secs ahead of his Italian team mate.