JULY 12, 2011
Williams set to remain unchanged in 2012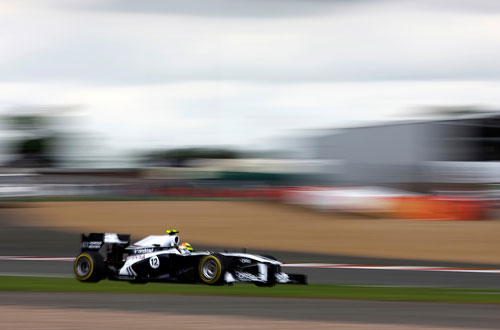 © The Cahier Archive
Williams chairman Adam Parr says it is likely that the team will continue with an unchanged driver line-up next year, with Rubens Barrichello partnered by Pastor Maldonado.
Currently, Williams has just four points on the scoreboard in 2011 and lies ninth in the constructors championship, eight points adrift of Force India and 13 shy of Toro Rosso.
Barrichello has ninth place finishes in Monaco and Montreal to his credit but rookie Maldonado is still searching for his first point. He was, however, heading for 10 points in Monaco after a fine performance, before Lewis Hamilton took him off. At Silverstone the Venezuelan rookie qualified seventh and has impressed the team in recent races.
Parr, asked at Silverstone whether the team will retain both drivers next season, said: "I think that's vastly the most likely outcome but I don't think I should comment on whether contracts are in place yet for next year. Pastor's a rookie though and lesson number one of my five years in F1 is, don't sign a rookie for one year, because you're just killing yourself!"
Parr thinks that Maldonado has more than answered suggestions that he was fortunate to get the Williams seat in preference to Nico Hulkenberg, although it is understood that backing from Venezuelan oil company PDVSA played a large part.
"It was a very difficult decision because Nico is enormously talented," Parr admitted. "There were a number of factors involved that we are not going to talk about but I always believed, although people derided me/us, that Pastor was very talented and that his record in GP2 certainly earned him a place in F1.
"You could always see the speed and what he has begun to show is a degree of consistency and maturity that perhaps people did not expect. We've been in Q3 three times this season and he's done it each time."
The 39-year-old Barrichello has recently expressed his desire to stay on with the team for a third year.
Other stories for JULY 12, 2011