JULY 12, 2011
Ferrari: not everyone is behaving like us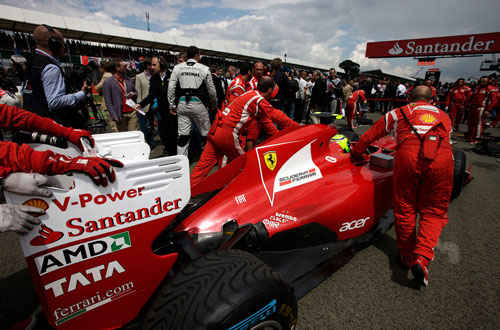 © The Cahier Archive
After Ferrari's victory in the British Grand Prix at Silverstone, the team's first win of 2011, team principal Stefano Domenicali answered questions about his team's performance, aspirations and its view on F1's exhaust blown diffuser saga. Tony Dodgins was there.
Q: Did your wind tunnel suggest there was going to be as big a gain as this?
I would say that for sure it was an incredible performance. We were expecting an improvement, for sure, but it was so big that to be honest we need to be cautious. We need to understand the data but we saw that the performance of the car at Silverstone was really good in all conditions - wet, soft tyres, hard tyres. Maybe it will be different at the next grand prix but we don't have to be focused, as a lot of people are, on this saga of the hot and cold gas because I think all the people are fed up with that. They don't understand what it's about and it's hard for the media to explain to the viewers, because it's difficult for me. I think we really need to look ahead and hope that our performance will be the basis for the next part of the season.
Q: Was it a surprise to win?
Surprise is a big word. For sure we were expecting to be competitive but the win is a great result. It was great to win at Silverstone on the 60th anniversary of Gonzalez and that's something unique that belongs to this team. The fact that we were able to win here means a lot to us. Correct me if I'm wrong but I think that in the last 18 years we've always been able to win something, and that means a lot.
Q: Last year at Silverstone, Fernando still believed he was in the fight for the championship. Is it the same after this victory?
I don't know about being back in the championship. I want to be cautious but never say never. I don't look at the classification at the moment, I'm looking at us pushing and never giving up and if in the next couple of races we get good results, then we will see. But we need to stay focused on our performance.
Q: We were told that to go back to Valencia spec on the exhaust blown diffusers we needed unanimous agreement and that on race morning Ferrari and Sauber did not agree. Then Bernie said there is agreement, so what is your understanding?
Yes, that's my understanding.
Q: But have you agreed?
As I said, I think this thing is not good for everyone and we need to draw a line and look ahead, otherwise what have we got? Even if I don't agree with the process that was taken I think that for the benefit of the sport we should have the gas.
Q: So we go back to Valencia spec?
We need to wait and formalise things but I believe that's the most likely way. That's the most likely scenario.
Q: Do you think you will have this level of competitiveness at all circuits for the rest of the season?
I will pay for it now! I hope we can be fighting for the leading positions but we should remember that we have also been competitive at the last couple of races. If you think back to Monte Carlo, Canada we could have done a good job, and the last race we were fighting, so we have improved and this is reward for the team. We are hoping to have races like today in the second half of the season.
Q: How did you see Hamilton's move on Felipe on the last lap?
Honestly I think it was an exciting moment and something that is part of the game. He was trying to attack, then defend, and I can't see anything wrong with that. Felipe tried very, very hard and almost did it. If the last corner had not been so tight a right-hander, he'd have done it.
Q: Is this victory a similar situation to the first win in '09, in Belgium?
No, that was a different situation. We were really out of the game with the car then but this year we have been competitive in races. As a relief though, it's important because we've had a tough time and we weren't going in the right direction, so it's good for everyone who has been working so hard.
Q: Do you expect to be as competitive with Red Bull at Nurburgring?
I really hope so and that's all I can say. We will try to bring another update for the car and see where we are. Our goal is always to win and that's the goal we will have at Nurburgring.
Q: How do we know that this win isn't just a one-off because Vettel had a slow pit stop. Is Ferrari able to compete?
The race pace was good and even without that mistake and without problems we have suffered in the past, we could have won races in any case. Honestly, today we were very strong. I hope that after this one, others will come.
Q: After what happened in Abu Dhabi last year, do you now feel you're back to where you were in Korea, that kind of level?
Let's wait. We will see after the next couple of races. We are focused but I'm sure Red Bull and McLaren will push like hell, also Mercedes, and it's a never-ending story. If they are going to be better in Nurburgring we will have to see what happens.
Q: The relief of the win, did that help you make a decision (on the diffusers) that is good for the sport but maybe not so good for Ferrari?
No. To be honest you need to look at the bigger picture and I have to say I don't think all the people are behaving like we are.
Q: How much was this victory down to the step forward you made with the car and how much down to the blown diffuser episode pulling back the Red Bulls?
I don't know. Anyone can say anything because nobody really knows what we are speaking about. I hear so many things, that it makes a difference anything from three tenths to one second. I just want my people to be focused on the development of the car and maximising that. I've said to them, 'don't follow all this discussion, just focus on the job.'
Other stories for JULY 12, 2011