JUNE 12, 2012
Vettel gets first taste of GP of America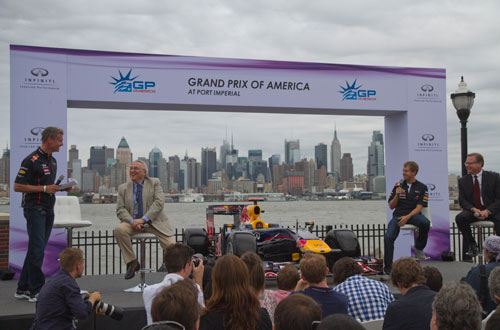 © Mark Karp
Sebastian Vettel became the first Formula One driver to get a taste of the circuit for the upcoming Grand Prix of America, at Port Imperial in Weehawken, NJ.
The two-time World Champion drove the a course in an Infiniti IPL road car in front of the local crowd, and later said, "It's been fantastic to be the first to drive the new circuit. I was able to get some good speed up in the Infiniti and it's clear that it is going to be a big challenge in a Formula One car. With such a great setting too, I can't wait to get back here and race in 2013,"
Race promoter Leo Hindrey said, "Sebastian got a very small taste of what racing around the Port Imperial course will be like, but there's no substitute for when he'll be driving at just over 200 miles an hour. We can't wait to host him and the world's other elite drivers with the world's greatest city in the background."
Construction of the garages and permenent facilities are well underway, and repaving of the roads will begin shortly, with the anaugural event scheduled to take place in June 2013.
<p>Infiniti video of the event:</p> <a href="http://www.infiniti-performanceteam.com/assets/uploads/video/B-F1RST-H264_HD.mov"><img src="http://www.grandprix.com/jpeg/misc/weehawken-pc-11-jun-12-2.jpg" alt="Sebastian Vettel" width="728" height="400" border="0" /></a>
Other stories for JUNE 12, 2012