MARCH 17, 2011
Schumacher ready to defy Moss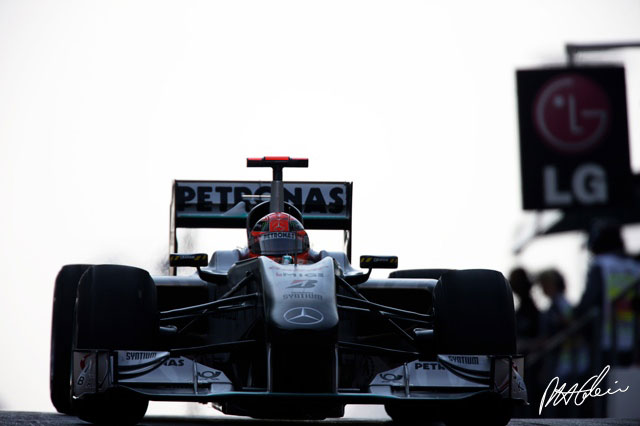 © The Cahier Archive
Despite Stirling Moss being quoted saying he does not believe Michael Schumacher can win grands prix anymore, the seven times champion himself begs to differ.
"I hope we will be able to fight for podiums and hopefully even victories at some of the races," Schumacher said, having set quickest testing time of the winter at Barcelona last week.
"The data I have seen over the winter has been quite encouraging but then we all know the realities of data and the racetrack can be quite different. We will only see the truth once the season gets under way, so I can hardly wait to go to Melbourne to finally see what the real picture is.
"A year after first working with Mercedes, I know much better which areas to work in. I am much more familiar with the team and we have a great group of very skilled and dedicated people. I have never regretted my decision to return."
Only a few short weeks ago pundits were predicting another difficult year for Mercedes and Schumacher, whose best result in the first year of his return to F1 after a three-year absence was a fourth place. Now, however, the question is whether the team will be able to get in among the Red Bulls and Ferraris, which appeared to be in the best shape both performance and reliability wise in pre-season testing.
Privately, team members are thought to be confident. Mercedes is understood to have cut the weight of its KERS system by almost 10kgs compared to 2009 and there is hope of both a 92nd win for Schumacher and a first for Nico Rosberg.
Other stories for MARCH 17, 2011