APRIL 16, 2012
Ross Brawn: It was a perfect race for us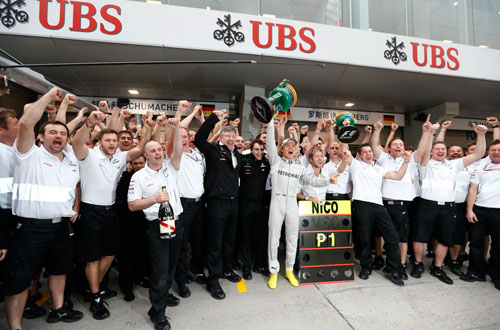 © Active Pictures
BY TONY DODGINS
Chinese GP victor Nico Rosberg admitted that cool conditions helped Mercedes but, even so, the team is moving forward. Not only were they strong in qualifying but also improved mightily in the race vis a vis Australia and Malaysia.
Much of it was down to set-up but Mercedes also got the strategy right. But for a problem at Michael Schumacher's first stop, they could have been looking at a 1-2.
Bahrain may be a different story again, Rosberg admitted. For now though Ross Brawn, Mercedes motorsport boss Norbert Haug and the team could drink in their first win as a works team.
Q: How does it feel to have won races with four different teams?
What's wonderful is that this is a team with a lot of history as well. It's very delicate getting the car to work well on the tyres but when you get it right you see something like today.
Q: Has the win come sooner than you thought?
You could see what is very strong opposition not quite hitting the sweet spot. We managed to hit it today when others didn't. I think that's going to be the characteristic of this year. The teams will all get better at using the tyres and the occasions when you don't get it right will be fewer.
Q: How crucial was the low track temperature?
We didn't want it to get too cold funnily enough, because the rubber can start to grain and you then struggle and fall out of the right window. We were anticipating it being a bit warmer and we'd set the car up for that but, in fact, the tyres worked perfectly. James (Vowles), our strategy guy, called the race absolutely perfectly in terms of it being a two-stop. The tyres were just starting to ease off when we came into the pits. That side of it worked really well.
Q: How worried about Jenson Button were you?
We were keeping a pretty close eye on him! It was a big relief when McLaren had a slow final stop and he fell into that pack, because obviously they should have come out in front of it. I think it would have been much more of a race but I've a feeling Nico had a bit in reserve.
Q: Australia was too hot, Malaysia too cold. Are you on top of the tyres now?
I think it's going to be a bit of a lottery as to where your target is. We've got some things that are going to help us widen the window for using the tyres - things coming for Barcelona, the Mugello test and Monaco.
Q: Have you now got the speed to deliver a series of wins?
It's so difficult to judge because of this sensitivity. Did everyone else get it wrong and we got it right? Is it a fair measure? I don't know. But the fact that we've been close in qualifying at the first two races gives me encouragement. But it was just a perfect race for us today and I suspect it wasn't for others.
Q: What happened with Michael Schumacher?
It was the right front and I don't honestly know what happened yet at that stop. It was very frustrating because Michael was in great shape and was looking after his tyres extremely well. He was falling into the right window for the same strategy as Nico, so that was all a great shame.
Q: Will the higher temperatures of Bahrain be much tougher?
We just need to hit that sweet spot again!
Other stories for APRIL 16, 2012