Chinese GP 2012
APRIL 16, 2012
Race Report - Historic win for Rosberg and Mercedes!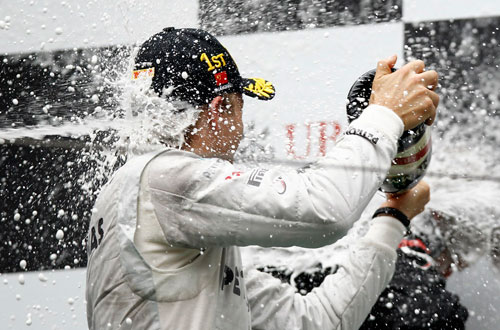 © Active Pictures
BY TONY DODGINS
Nico Rosberg scored the first Grand Prix win for Mercedes Benz as a works entity since Juan Manuel Fangio and Piero Taruffi finished 1-2 for the Silver Arrows in the Italian Grand Prix on September 11, 1955!
Pre-race, all the speculation was about whether Mercedes could look after the tyres sufficiently well to turn their qualifying pace into a race win.
The team answered the question emphatically with a delighted Rosberg taking the chequered flag with 20s in hand over Jenson Button's McLaren to score his first GP win at the 111th time of asking.
"We were talking about it on the podium," Button smiled. "It took me 113 races, then my career took a different path. Some drivers get themselves into a good situation early on, but whenever the win happens, it's a great feeling."
And so it was that a Rosberg stood on the top step of the podium for the first time since Keke won in Adelaide 27 years ago. For Ross Brawn, it was a win with his fourth different F1 team - Benetton, Ferrari, Brawn and now the same team under the three-pointed star, a great achievement.
They were the headline facts and figures but it was the manner of the victory that was a surprise. In Australia the team overheated tyres, in Malaysia they couldn't get them hot enough. This time, they got it spot-on.
It's not a simple issue such as wear. It's about getting the tyres into the right operating window. While a three-stop race was potentially quicker, as we saw in Shanghai last year when Lewis Hamilton pipped the two-stopping Sebastian Vettel, it potentially left you more exposed to traffic. Rosberg was able to made a two-stop work, refuting the suggestion that the car is too hard on its rubber.
Any hopes of a Stuttgart 1-2 fell apart when Schumacher posted the race's only retirement on lap 10. There was a problem on the right front at the seven times champion's first stop and Schumacher headed back out with just three wheels firmly attached.
"It was a real shame," Brawn said, "because Michael was in great shape and looking like falling into the same strategy window as Nico." The team copped a 5000 Euro fine for an unsafe release.
The big threat to Rosberg was Button, who got a great start and ran third from fifth on the grid at the end of the first lap. McLaren opted for a three-stop race and at one point was looking good to take the fight to Mercedes in the closing stages. But then, at his third and final stop, with 17 laps to go, there was a problem with the left rear and Jenson was stationary for 9s instead of the usual three.
Crucially, the delay dropped him into a gaggle of cars behind Kimi Raikkonen, some of them, including Kimi, two-stopping. The Finn's tyres were 11 laps older than those on the McLaren at that stage. Jenson managed to fight his way to the front of the group but any chance of giving Rosberg a tough time, was gone.
"These things happen," Button said philosophically. "The first two stops were very good. Everything was going to plan but Kimi was leading a train of about eight cars. Everyone was using DRS at the same time and until Vettel had a go at Kimi, I couldn't have a go.
But that was one fun race. My pass on Vettel was good and the one on Grosjean before Turn 6!"
McLaren team principal Martin Whitmarsh did not think the long stop had cost his team a victory.
"You're trying to get a strongly attached nut off a wheel and re-attach it as quickly as possible and occasionally you get a cross-thread," he said. "We had to drop that gun and use the back-up, which had a nut pre-loaded.
"I'd like to say we'd have won otherwise, but I don't think that's right. Nico's tyres didn't degrade as we might have expected. We lost a long shot at victory but I don't think we threw one away."
Lewis Hamilton cemented a strong afternoon for the team with third place, 5s behind his team mate, ensuring that leaving China he led the drivers' championship by two points from his team mate, while McLaren leads the constructors' championship by 24 points from defending champions Red Bull Racing.
Christian Horner's men had to be content with fourth place for Mark Webber - his third such result in as many races -- and fifth for Sebastian Vettel, who used split race strategies as well as split car strategies.
Vettel raced the RB8 in pre-final Barcelona test specification after failing to achieve satisfactory balance in the first two races, while Webber stuck with the latest developments.
When Webber made a bad start and finished the first lap ninth, the team went for as aggressive a three-stop strategy as they dared, bringing the Aussie in on lap 6 for a set of primes.
Vettel, meanwhile, fell to 14th from 11th on the grid and after making his first stop after nine laps, went through on two stops with 22 and 25 lap stints on primes.
With 47 of the 56 laps gone, the race reached a fascinating stage. Rosberg was free and gone, with 25s in hand over Raikkonen, whose prime tyres were now 19 laps old. Right behind the Lotus was Vettel (16 lap old primes); Button (8 lap primes); Webber (13 lap primes); Hamilton (9 lap primes); Senna (18 lap primes); Grosjean (15 lap primes); Maldonado (14 lap primes); Alonso (9 lap primes); Perez (12 lap primes); Kobayashi (9 lap primes); Di Resta (15 lap primes).
Amazingly, all 12 cars were covered by 10s this far into the race, and without a Safety Car! That's how competitive F1 is in 2012.
Within two laps, Raikkonen lost 10 places!
"Kimi's tyres were reaching the end of their life and unfortunately he got on the marbles when Vettel passed him," Lotus's Alan Permane explained. "That was the end of his race effectively but without that gamble he wouldn't have been running second."
Webber got forced wide trying to negotiate the Lotus and lost a place to Hamilton, and Button, on his fresher rubber, forced his way past Vettel and into second with five laps to go.
Webber's three-stop and Vettel's two-stop proved pretty even and on tyres that were three laps newer, Mark managed to get around Sebastian on the penultimate lap to take fourth place.
Grosjean, having earlier run onto the marbles battling Webber, scored his first points with a fine sixth place, with Bruno Senna bringing the Williams home in the points for the second successive race, ahead of team mate Maldonado.
There was no heaven sent weather conditions for Ferrari and Fernando Alonso in China and the championship leader had to be content with ninth place, ahead of Kamui Kobayashi, who had to be disappointed with just a single point having lined up third.
"I'm not really sure what happened at the start, my car just didn't move," he explained. "I lost positions immediately and then I was stuck in traffic, Also, we made the second pit stop a bit late and the tyres had gone. Quite often we have recovered in the race from a bad qualifying, but today it was the other way round. But we have proven we can be strong in both qualifying and race, and next time we will put this all together."
As we headed for China, McLaren had been the dominant team. Post-Shanghai, Button said: "I think we are going to have a battle on our hands. I'm looking forward to it being hot. I've struggled with trying to get tyres into the operating window and a change of four or five degrees gives a massive change in car balance."
Tyres, as the old clich '© goes, are a black art. Here, Mercedes got it right. Can they find that sweet spot again in the heat of Bahrain. As Ross Brawn admitted (see separate story), it's what they need to do. We're in for a fascinating year.