OCTOBER 16, 2011
Petrov given five-place grid-penalty for Schumacher crash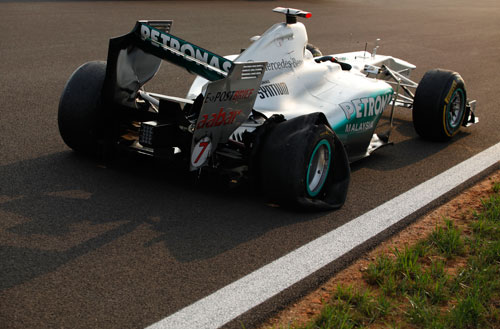 © Active Pictures
Renault driver Vitaly Petrov was given a five-place grid penalty for the upcoming Indian GP for causing the accident that took him and Michael Schumacher out of the Korean GP.
The Renault driver had just passed Fernando Alonso's Ferrari in the DRS zone, and was defending agains't Alonso repassing him into the corner at turn 3 when he was going way too fast and seems surprised to find Michael Schumacher turning into the corner and collided with the seven times world champion - going straight into the back of the Mercedes GP car, damaging the front of his car and Schumacher's rear wing.
The Russian driver was also given a reprimand by the race stewards.
After the race the Hispania Racing Team was also given a 5,000 euro fine for an unsafe release of Daniel Ricciardo from the pits during the race.
Other stories for OCTOBER 16, 2011