OCTOBER 16, 2011
Infiniti increases Red Bull presence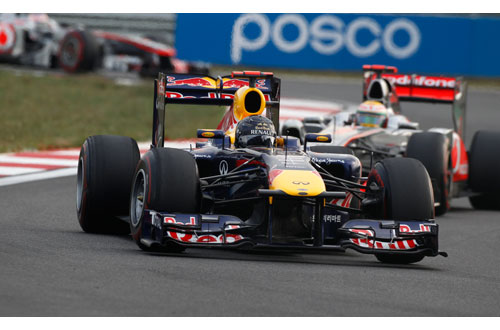 © Active Pictures
Red Bull Racing today announced that the Japanese auto manufacturer Infiniti will have an increased presence with the team, signing a new increased multi-year agreement.
The new contract is thought to run through the 2014 season.
As part of the new agreement, the Infiniti logos will feature more prominent space on the chassis starting next season.
Infiniti, the Japanese luxury auto brand owned by the Nissan car company, is now making inroads into Europe, and are using Formula 1 to increase there brand awareness.
Nissan's executive vice president, Andy Palmer said, "When we announced the partnership back in March, our single objective was to boost global brand awareness for Infiniti. In just seven months, the results have exceeded even our most ambitious targets, leading to us to becoming the most highly-exposed automotive brand in Formula One this season. As we look ahead to the second year of our partnership with Red Bull Racing, we are now extending into exciting new areas of technical and product collaboration."
Red Bull team principal, Christian Horner said, "In the short time we have been involved with Infiniti it has become clear that the closer we work together the more performance advantages can be gained by both sides. It has been a phenomenally successful first season to date, and deepening our partnership further provides us even more scope to share knowledge and expertise, leading to mutual benefits on the track and the road."
Other stories for OCTOBER 16, 2011