NOVEMBER 6, 2010
New partner for HRT as new teams shape up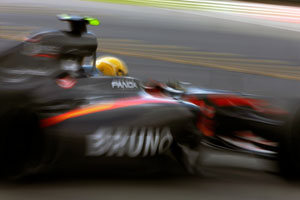 © The Cahier Archive
Hispania Racing Team (HRT) has concluded a deal with former Telefonica chief executive Juan Villalonga which, it is hoped, will put the team on a more sound financial footing.
"We will substantially strengthen our ability to generate innovative activities in marketing and sponsorship with his incorporation," said HRT owner Jose Ramon Carabante. "We will also be able to make the best of his leadership, knowledge and relationships in the fields of technology and communications, and therefore be able to fully exploit the opportunities we are given after this tough first year." It was Villalonga who brought Telefonica into F1 as a Minardi sponsor.
Formula 1 commercial supremo Bernie Ecclestone recently caused a degree of controversy when he was asked about F1's new teams and quoted by the Financial Times newspaper: "They do nothing for us, they are an embarrassment. We need to get rid of some of these cripples..."
Ecclestone made it clear that his comments were not aimed at Lotus, which has recently announced plans for a wind tunnel at its Hingham base, has built infrastructure and confirmed a Renault engine deal in conjunction with a Red Bull Technology drive train package for 2011.
With transmission and hydraulics issues forming a major part of the new teams reliability struggle in 2010, HRT has recently announced a 2011 transmission deal with Williams, and with the Dallara chassis contract having been terminated, it is believed that a sub-contracted deal overseen by former Williams Geoff Willis is the way forward.
Wirth Research, which has built this year's Virgin chassis, meanwhile, has also worked on the casing and hydraulic systems for the gearboxes used by the new teams this year, with internals from Xtrac, but team principal John Booth said in Brazil: "We had transmission problems very early on in the season but ours is a little bit different to the other new teams in that it is pretty much our own gearbox and we are very happy with the developments we made this year. Next year's box is even more reliable, so we are pretty happy with it."
Ecclestone, however, recently called for Richard Branson to make more investment in the team that carries his company name. "Richard should put some money in there, shoundn't he?" Ecclestone said. "He could do what Dietrich Mateschitz has done and put some money in."
Other stories for NOVEMBER 6, 2010