Brazilian GP 2010
NOVEMBER 6, 2010
Qualifying Report - Hulkenberg takes sensational Brazil pole!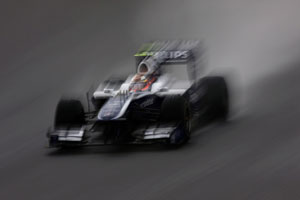 © The Cahier Archive
Nico Hulkenberg (1:14.470) snatched a dramatic pole position for Williams in qualifying for the Brazilian GP, taking advantage of a drying track and a final run on slicks in Q3 to beat the Red Bulls. It was the team's first pole position since Nick Heidfeld in the European Grand Prix of 2005.
"I still can't believe it, a big thank-you to the team," the 23-year-old reigning GP2 champion beamed. "Rubens is P6 so it was a great team effort. Slicks was the right decision at the end and I squeezed everything out I could and didn't get on any wet parts. I'm very happy and just enjoying it. Since I've got more familiar with F1 in the second half of the season I can push harder and learn the circuits quicker.
"A first pole is an emotional and historic moment as I want to be in F1 for many years. I'm still shaking from the thrill and don't really have the words for it. But now I have to get on with the job tomorrow. I'm not going to drive away from these guys if it's dry, that's not going to happen, and I know they are battling for the championship, so I don't want to cause trouble but I am also fighting for myself and we are in a tight battle with Force India for P6 in the constructors championship, so I will be looking to bring home as many points as possible."
Hulkenberg admitted that he would favour a full wet race, suggesting that he had taken such a set-up for qualifying, which could mean being easy meat for the Red Bull twins early in the race. He added, however, that the team had selected different gear ratios aimed at getting off the line better and so he was confident of converting his pole position and getting through Turn 1 in front.
Red Bull Racing's Sebastian Vettel (1:15.519) and Mark Webber (1:15.637) fought tooth and nail all the way through qualifying with Webber a couple of tenths quicker in Q1 and Q2 but his young German 'team mate' getting the better of the Australian by 0.12s in the final fling on slicks.
"It was a very tough tyre call at the end of Q3 and a tricky session," Vettel admitted. "The last sector was difficult -- it was getting better and better but still very slippery. At first I thought I'd missed pole by a tenth and then I looked again and saw that it was a second, so congratulations to Nico. I'm happy with second but a bit angry as well because when the gap is a full second, that's a statement...."
Webber echoed Vettel's sentiments, adding: "Nico made all of us look pretty average today, so well done. I enjoyed the session. It was challenging for us all and it's easy to get things wrong in conditions like that, so I'm happy to be up towards the front. It was really tricky to get clean laps in and I did my absolute best. It could easily have been 17th today so I'm in a good position to start the race. I went off just before my last lap but it wasn't a problem because we knew that the last lap was going to be the one for everyone and I was looking at how to open up my lap against Felipe, who was not looking too comfortable just in front of me."
Webber denied that controversy over his statements of a couple of days ago suggesting that Red Bull was emotionally behind Vettel would have any impact on his focus going into tomorrow's race.
"I'm absolutely focused and clear," he said. "Korea didn't turn out for me but none of us have had perfect seasons and you cannot drive like I have been if you are not happy."
Lewis Hamilton (1:15.747) starts right behind his championship rivals and one place clear of championship leader Fernando Alonso (1:15.989), who now looks like he faces a tricky afternoon in the defence of his 11 point series lead.
Rubens Barrichello (1:16.203) put the second Williams sixth on the grid, ahead of Robert Kubica's Renault (1:16.552). Michael Schumacher (1:16.925) was the only Mercedes driver to make Q3 and lines up eighth, ahead of Felipe Massa (1:17.101) with the second Ferrari and Vitaly Petrov (1:17.656) in the second Renault.
Jenson Button's slim chances of retaining his title now look all but impossible as the second McLaren starts 11th. With weather forecasts suggesting a dry race, a tense penultimate round to the championship is in prospect.