FEBRUARY 6, 2011
Kubica seriously hurt in rally crash (update)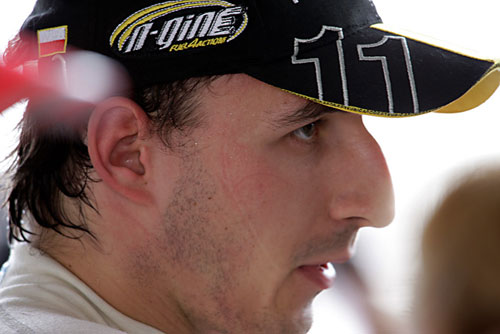 © The Cahier Archive
Robert Kubica has been airlifted to hospital with serious injuries to his arm, leg and hand after a crash during a stage of the Ronde di Andora rally in Italy.
Kubica, driving a Skoda Fabia S2000, left the road at high speed just 4.6 km into the first stage and hit a guardrail in front of a church wall.
The Skoda was heavily damaged as the end of the guardrail appears to have penetrated the footwell of the cockpit, through the engine compartment, cutting into Kubica's right arm and leg - while the co-driver area was untouched.
While his co-driver and friend Jacub Gerber suffered no injuries in the crash and left the car by his own means, Kubica was trapped in the car and had to be rescued by the local emergency services. According to eye-witnesses, Kubica arrived too fast at a very quick Esse in the middle of the first stage of the rally and crashed heavily into the left hand side of the road.
There are reports that Kubica lost blood, as it took 90 minutes to release him from the car, and he was then transported by helicopter to the hospital of Santa Corona di Pietra Ligure where he was stabilized and sedated.
A Renault press release said that Kubica has been diagnosed with "multiple fractures to his right arm, leg and hand", and is currently undergoing surgery. Kubica remains in critical condition, but his life is not in danger.
It appears that the worst injuries are to his hand, which was reported to have been injured and cut when the end of the guardrail penetrated the cockpit of the car, and although they the surgeons have avoided the need to amputate his hand, micro-surgery is still underway to increase the circulation, as many blood vessels were smashed.
It is too early to make a prognosis about his full recovery, and what the implications for his career are.
Kubica has regularly contested rallies alongside his F1 career but today's accident - even though Renault authorized him to participate in the rally - sadly, will put the wisdom of such actions under serious scrutiny. Kubica, who won the 2008 Canadian GP for BMW a year after suffering a colossal accident in the same race a year earlier, is highly rated by his rivals as well as by his team. Technical chief James Allison said last year, "I have no doubt that if we give Robert a championship-winning car, he will deliver a title."
Although it is early days in pre-season testing, the initial performance of the new Group Lotus-sponsored Renault R31 seems highly promising. While the prime concern must be for Kubica and a full recovery that allows him to continue his career, it seems inevitable that he will not be taking part in the opening races of the new F1 season, which starts in Bahrain five weeks today.
The team finds itself in a situation whereby its second driver, Vitaly Petrov, has just one season of F1 experience behind him and, also, the biggest 2010 gulf between himself and his team mate on the F1 grid.
Bruno Senna has just signed a deal to be Renault's reserve driver. The 27-year-old also has only a single season in the top category under his belt, with the newly-formed HRT team. If Kubica's injuries rule him out as expected, it remains to be seen whether Renault will consider Petrov/Senna a workable partnership or whether the team will look elsewhere.
Drivers with ability/experience who have not got full-time F1 seats in 2011 include Germans Nick Heidfeld and former GP2 champion Nico Hulkenberg, who is reserve driver at Force India.
Other stories for FEBRUARY 6, 2011