FEBRUARY 6, 2011
Civil honour for Fernandes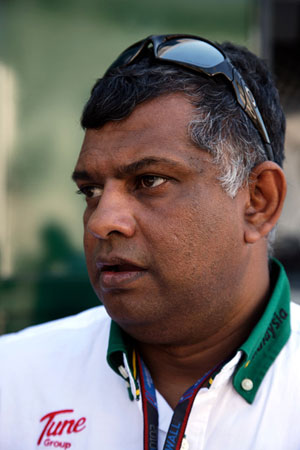 © The Cahier Archive
Team Lotus principal and entrepreneur Tony Fernandes has been awarded a CBE (Commander of the Order of the British Empire) by the Queen. The award was conferred "for services to promote commercial and educational links" between the United Kingdom and Malaysia.
Fernandes, together with three partners, took over the loss-making AirAsia from a Malaysian government-linked company in 2001. In just over nine years AirAsia has become Asia's largest low-cost carrier. In 2007, he founded sister airline AirAsia X, the low-cost, long-haul carrier that is often dubbed "AirAsia on steroids."
AirAsia X launched its low-fare route between Kuala Lumpur and London (Stansted) in 2008, providing affordable fares that have spurred travel between the two countries, both in tourism as well as among students.
Fernandes is also the founder of the Tune Group of companies, which includes Tune Hotels (budget hotels, including one located in central London), Tune Talk (pre-paid mobile telephones) and Tune Money (insurance and finance). Fernandes was also instrumental in the effort to locate a campus of Britain's prestigious Epsom College, where he was a student, in Malaysia.
Fernandes said: "I'm grateful to Her Majesty Queen Elizabeth II for the honour. It is recognition of the hard work, determination and effort on the part of all my partners, colleagues and staff in AirAsia, Tune Group and Team Lotus. We have a terrific bunch of talented people working with us to make things happen in whatever venture we undertake. This is as much their award as it is mine."
The CBE is the second major award for Fernandes in Europe. In 2010, the French government conferred upon him the title of Officier of the Legion d'honneur, the highest award for a non-French national, for his outstanding contributions to the aviation industry. Fernandes was also named "Asia Businessman of the Year 2010" by the international magazine Forbes.
Other stories for FEBRUARY 6, 2011