JUNE 12, 2010
Hamilton Keeps Pole But Receives $10,000 Fine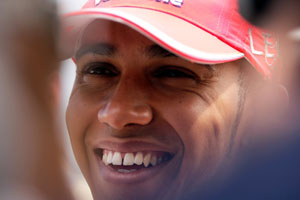 © The Cahier Archive
Lewis Hamilton has kept his Canadian GP pole position but been reprimanded and fined $10,000 for being in breach of article 15.1 of the F1 sporting regulations.
After setting his pole position time, Hamilton stopped on his slowdown lap and exceeded the maximum time for getting back to the pits as per a document issued by race director Charlie Whiting to the teams on Friday.
There was a degree of controversy over the fact that Hamilton had obviously run slightly lighter on his final qualifying lap, an advantage, as evidence by the fact that the car did not have enough fuel to get back to the pits on its slowdown lap.
"Sounds cheap to me..." said Mercedes team principal Ross Brawn with a smile on his face when hearing of the penalty. McLaren's Martin Whitmarsh, however, said: "We have complied with the regulations and it wasn't done by choice. The document from Charlie was a memo not a regulation. We could have got back to the garage but we might not have been able to give the required fuel sample to the FIA, which is a regulation, so that was why Lewis did what he did."
There was speculation that Hamilton might have his quickest time disallowed and suggestions that the fact that the team's punishment was relatively lenient might prompt a whole spate of people running out of fuel on their slowdown laps in future.
"As I said, it wasn't deliberate," Whitmarsh added, "and people would run the risk of the stewards deciding that it was systematic, so I don't think that it will happen a lot in the future."
Other stories for JUNE 12, 2010