Canadian GP 2010
JUNE 12, 2010
Qualifying Report - Hamilton snatches Montreal pole but Red Bull looks well set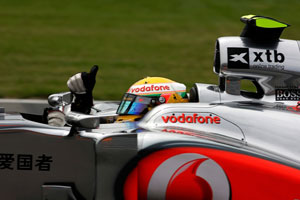 © The Cahier Archive
Lewis Hamilton (1:15.105) snatched a dramatic pole position for the Canadian Grand Prix, finally breaking Red Bull's 100% qualifying record this season. To do it though, Hamilton had to utilise the supersoft Bridgestone tyre, whereas the Red Bulls of Mark Webber (1:15.373) and Sebastian Vettel (1:15.420) qualified second and third on Bridgestone's prime tyre which, barring the event of an early Safety Car in the race, should give them a strategic advantage.
McLaren team boss Martin Whitmarsh, meanwhile, hopes that a short first stint on the supersoft tyre and then an early switch to the medium compound Bridgestone could pay dividends in the race. It is, however, unlikely that Hamilton would be able to open a sufficient margin in the opening stint to clear the quicker midfield runners who opt to start on the harder compound tyre and will run a much longer first stint.
"It's been a great start and I'm a bit overwhelmed," Hamilton said. "It reminded me of my first win and pole here back in 2007 and I'm just really proud of my guys because I damaged my car a bit in practice and they just fixed it super-quick and did such a professional job."
Webber, explaining the Red Bull perspective, added: "We thought we could do a job with the hard tyre and have a crack at the front row and so it proved. It's a long race and we think hopefully it will be a good benefit tomorrow. But, you get a lot of Safety Cars here and there's any number of ways the race could go tomorrow."
Team mate Vettel got his time together right at the end, having messed up the final chicane on his penultimate lap. "It was an entertaining session," Vettel said, "with the tyres taking a while to come in. I didn't get a lap together until the very last one and it still wasn't very clean, so I'm actually quite relieved to get third. We saw on Friday that it was hard to make the soft tyre last more than a couple of laps, so hopefully we will be in better shape. But there's a lot of guesswork involved, nobody really knows what's going to happen with the tyres tomorrow."
Fernando Alonso (1:15.435) qualified fourth with the first of the Ferraris on the softer tyre, a tenth quicker than Jenson Button (1:15.520) who also ran the softer tyre on his McLaren.
Tonio Liuzzi (1:15.648) achieved his best qualifying position of the season with the Force India and lines up sixth, one place better off than Felipe Massa (1:15.688) with the second Ferrari.
Robert Kubica (1:15.715) was a promising fourth quickest in Q2 just over a tenth off Hamilton's ultimate pace but had to be content with eighth in the final analysis, 0.17s ahead of Adrian Sutil in the second Force India and Nico Rosberg's Mercedes (1:16.071). Rosberg's team mate Michael Schumacher, always struggling with a chassis that did not seem comfortable on the kerbs, failed to make the top 10 shoot-out for the first time this year and starts a race he has won seven times 13th on the grid.