MARCH 26, 2010
Hamilton booked by police for "improper use of a vehicle"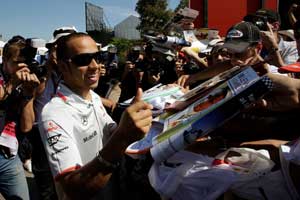 © The Cahier Archive
After posting the fastest time Friday afternoon during practice for the Australian Grand Prix, 2008 World Champion Lewis Hamilton was booked by the police for spinning his wheels in a street car.
While driving on the street at 9:15pm, close to the Albert Park circuit, Hamilton was spotted by the police deliberately losing traction in his 2010 Mercedes C63. Melbourne police booked him under what are know as "anti-hoon" laws, in which - often young - motorists spin their wheels, fishtail or perform doughnuts on public roads.
The police impounded his car, and he was then driven back to his hotel.
McLaren later issued a release in which Hamilton commented: "This evening, I was driving in an over-exuberant manner and, as a result, was stopped by the police. What I did was silly, and I want to apologise for it."
Other stories for MARCH 26, 2010