Australian GP 2010
MARCH 26, 2010
Friday Team Quotes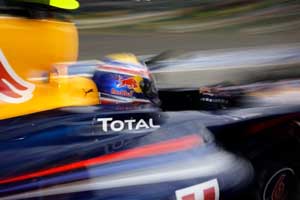 © The Cahier Archive
McLaren-Mercedes
Lewis Hamilton (1st, 1:25.801): "It's great to be back in Melbourne - I love this place. The track was very dirty this morning - everybody usually waits for some of the cars to clean the line, but I just wanted to get out there and have some fun! I definitely think we've made some improvements to our pace compared with Bahrain. And the feeling over one lap is better for us. That's what we've been trying to work on since the first race, and I feel more confident that, going into qualifying, we'll be able to attack the guys who were at the front two weeks ago. Despite this afternoon's wet weather, we went out early in the second session when it was still dry and got some good running under our belts in order to see how some of the changes we'd made between the sessions felt. We're feeling positive. We'd hoped to evaluate some further changes at the end of P2, but the track still wasn't up to full speed. Nevertheless, we feel quite comfortable with the balance of the car. I actually feel very relaxed: I've got a car that probably feels better than I've ever had at this track, so that's a major positive."
Jenson Button (2nd, 1:26.076): "I'm reasonably pleased with the balance, and it's just got better throughout the day. I've been happy since lap one this morning. It's only Friday, and we may be lighter than some of the quick cars out there, but tomorrow we'll see where we actually stand. Nevertheless, it's important for us to find a good balance and get a good feeling with the car. We've just been trying to continually tweak the balance of the car, but it's been tough because of the conditions and the traffic out on the circuit. Every time I've tried to put a good lap in on a new set of tyres, I've hit traffic. But we'll make the best of it for tomorrow. For qualifying, the car should feel better than it did in Bahrain: it feels like we have the correct downforce level for this circuit. Both tyre compounds are working well too, so it's all positive.
Martin Whitmarsh, Team Principal: "All the teams would probably have had an easier time of it if today's sessions had been completely dry, because the rain made things rather challenging in terms of optimising learning potential. That being the case, we chose not to go out in the rain, to conserve tyres. Instead, we did heavy fuel runs to gauge tyre wear, plus a little light running too. We're not about to get carried away by Jenson's and Lewis's positions on today's time sheet, although of course it's always gratifying to see your two drivers finish first and second on any day in any conditions. Having said that, we're pretty confident that we'll be more competitive here in Australia than we were in Bahrain."
Mercedes GP
Michael Schumacher (4th, 1:26.511): "As often on Fridays, the performance is difficult to judge as everybody seemed to be on different programmes. Having said that, I am quite happy with today's sessions, even if we did not run too much overall. My first session was a bit handicapped by red flags, later we faced some rain in the second session. But all in all, we learned a lot and we could improve the set up of our car quite reasonably. In the end our times were competitive so I think we can look forward to the rest of the weekend."
Nico Rosberg (10th, 1:26.956): "The first session was ok this morning and we learnt some good things. This afternoon was a bit frustrating with the weather interruptions but we were still able to learn a good amount on the tyres which gives us some preparation for tomorrow. There are still some set-up issues to look at and improvements to make on the car so we have plenty of work to do overnight."
Ross Brawn, Team Principal: "It was a frustrating afternoon with the weather but we were able to get some good work done this morning. However it's always very difficult to judge where you are on the first day. We made some progress on Michael's side and he was fairly happy with the car. Nico was not quite so happy and we may have gone the wrong way on some changes so there is still some work to do on the set-up of his car."
Norbert Haug, Mercedes Motorsport Director: "There were quite challenging circumstances for the teams and drivers in the second session with the frequently changing weather conditions. Nico was amongst the quickest in the first session and Michael in the second. But it is difficult to judge our performance compared to our competitors and we have to wait until tomorrow to find out what our results of today mean. All in all it was a productive day and we should have a reasonable baseline for qualifying."
Red Bull-Renault
Mark Webber (3rd, 1:26.248): "It wasn't too bad today. Everyone's programmes were disrupted in P2 with the intermittent weather. It's pretty much the team's worst nightmare when the weather's just on the edge like that; you can't commit to learning too much in the wet and it's quite tricky in the dry as well. We had a couple of windows where we got some information though, so we have good data to go through tonight."
Sebastian Vettel (16th, 1:29.134): "I had a drift off track at the end of the second session; obviously it wasn't ideal, but it happens - that's what practice is for. It was my mistake; I was a bit too far to the left when hitting the brakes. It meant I missed the most important time on the track at the end of P2, but the car feels good and Mark showed that we are right there. It looks very close between the top cars."
Ferrari
Fernando Alonso (15th, 1:29.025): "I am happy to be racing in Melbourne: this is one of the most enjoyable events on the calendar. Overall, I am reasonably happy with the work we managed to get done today, despite the rain that came in the second session. Sure, I would have liked to have got a greater understanding of the tyre behaviour, especially the softer ones, which we only used in FP2. However, I think everyone was in the same situation. We worked exclusively at preparing for Sunday's race and that's why I'm not bothered by my position in the classification. Usually on Friday, this track is very dirty but this time the grip level on the first lap was not so bad. For the race, tyre management will be a key factor, given that it's very probable that we will have to do a lot of laps on the same set of tyres. We will need to try and handle it in the best way possible to be able to attack when the right moment comes."
Felipe Massa (17th, 1:29.591): "It was a difficult Friday, especially the second session. Because of the rain which came and went, we did not manage to do exactly what we would have wanted. We concentrated on race preparation while it's possible some other teams were on a different programme to us. So, there is no point in trying to understand the situation simply by looking at the time sheet. Our aim tomorrow is to be well prepared for qualifying, which at this track will be even more important than usual. From what we have seen, the tyres do not suffer much degradation, but it's still a bit early to draw any definite conclusions. I like the Albert Park circuit a lot: I have always been quick here, but for one reason or another, I have never managed to finish the race in the points, apart from in 2007 when, after a difficult qualifying, I finished sixth. I hope I have better luck this time."
Stefano Domenicali, Team Principal: "We tried to get through all our planned programme, which centred on finding the best set-up for the race and on evaluating the two types of tyre Bridgestone has supplied for this Grand Prix. Obviously, we would have preferred to have been able to do more laps in consistent conditions, but this applies to everyone, so it's not worth complaining about. All in all, from what we could see, the situation is similar to the one in Bahrain. Tomorrow, it will be vital to have a good qualifying: in order to do that, it will be very important to manage the timing to find the best moment to go out and do a time, especially in the first two sessions."
Chris Dyer: "We did not manage to get through everything we wanted to do, but all the same, we were able to acquire enough information on the handling of the car and the tyres. The F10 seems to be pretty good on this track too, both on the harder and softer tyres. As scheduled, both cars were fitted with the engines they had on Friday and Saturday in Bahrain. On Fernando's car, we also tried a new updated front wing, which gave positive results. Tomorrow, it will be available to both drivers."
Williams-Cosworth
Rubens Barrichello (9th, 1:26.904): "The rain came in P2, it affected everyone. The team did a really good job sending me out at the right times when the track was dry so we collected as much information as we could considering the conditions. There is still quite a lot of work to be done in order to get us through to Q3 tomorrow."
Nico Hulkenberg (14th, 1:27.545): "Albert Park is quite a cool track; I really enjoyed it out there. It's very bumpy, but definitely good fun. Running in the second session was interrupted by the weather so we didn't get as much time as we wanted, but I feel familiar with the track now and comfortable with the car."
Sam Michael, Technical Director: "Today our programme involved working on mechanical set-up changes and testing revised aero parts for the FW32. We managed to evaluate most of the parts, but our schedule in session two was reduced by the wet weather. From the limited data we collected on the option tyre, it looks like it will be a stable tyre during the race."
Renault
Vitaly Petrov (5th, 1:26.732): "This morning the car felt pretty good and better than it did in Bahrain. The first session was a learning experience for me as I got to know the track and did some set-up work. We knew it was going to be wet in the second session so we went out as early as we could on the dry tyres before the rain got too heavy. When the track was damp we did some runs to analyse a few things and to understand the balance of the car on different fuel loads. It could rain on Sunday so it was good experience to run in these conditions."
Robert Kubica (11th, 1:27.108): "It was a good Friday. This morning everything went well with just some small balance issues, so we did some set-up wok to get used to the track, which is very different to Bahrain and the tracks where we tested over the winter. The second session was damp so we did some runs on intermediates to get a feeling for the wet conditions. Overnight we will work to try and improve the balance so that we get the maximum from the car tomorrow."
Alan Permane, Chief Race Engineer: "Albert Park is a track that is not used very often so the track started off very dirty and there was a quick evolution during the first session with the lap times coming down rapidly. The second session was affected by rain which slowed the evolution down. We've not been able to assess both compounds as much as we would have liked because of the rain. We ran on the prime in the morning and were happy with things, but we didn't get to do a comparison in the afternoon. However, we did run one car on option and one on prime so we can look at that data. As yet we haven't seen any clear trends. A little bit too much understeer still. The car is quite stable at the rear, but we need to work on the front end. Both drivers are reasonably happy and the new parts are performing as expected. It is bumpy here but the car is working well on the bumps so no complaints. For Vitaly it was a new circuit so he ran earlier in the first session with Robert running a bit later. The approach this afternoon was affected by the rain, but we ran as much as we could, especially with Vitaly. With Robert we ran into the dry on intermediate tyres and the car looked like it was working well. Robert was quickest this morning and although we don't know fuel loads of the others, we had no major complaints with the car. I said at the beginning of the weekend that the goal was to get both cars into Q3 and I still think that's a realistic target."
Force India-Mercedes
Adrian Sutil (7th, 1:26.834): "The rain in the second session was not ideal, particularly as I had sat out the first session, but we did what we could and I think overall the findings were very positive. At the start of the session we did some running with the harder tyre compound and then with the softer. We also tried out the intermediate tyre when the circuit was wetter. Everything seems to be working OK and we could get all the information we wanted today. I still have a good feeling about this weekend and I would like to better the result we had in Bahrain."
Vitantonio Liuzzi (8th, 1:26.835): "Today was OK and the car was responding pretty well to the changes we made over the sessions. I was quite happy with the balance. The conditions were not ideal as in the first session there were the two red flags in quite quick succession and then the weather didn't help in the second practice. Unfortunately then there was always traffic as there were people slowing down and backing off to try and get some space so I didn't get a free lap. It was like people were on a Sunday drive in some places. Overall though a good day to start the weekend on and I think we are looking good for tomorrow."
Paul di Resta: "I was pretty nervous going into the session, after all Albert Park is one of the most difficult tracks on the calendar. It's half street, half track so I had to build the programme from the bottom to the top. I had to feel comfortable in the car, particularly as I've not had the chance to drive it in the dry after the wet testing we had over the winter. It was something new and once the track rubbered in I was able to push myself beyond my comfortable limits. In Melbourne there's not much margin for error and therefore I had to be careful in some sectors as the walls get pretty close here. But the main job is to get the mileage and learn the track but most importantly to try and build a base for the drivers in the race with the optimum set-up. It's a good starting block for both me and I hope the team this weekend."
Dominic Harlow, Chief Race Engineer: "We had to think on our feet a bit today with both sessions being interrupted. Red flags in FP1 and the rain showers in FP2 both punctuated the running, and there is a lot of traffic to contend with . All three drivers were happy with the balance of the car, and we completed our usual Friday homework. As usual the circuit is quite slippery at the start of the weekend, but we'd expect as it rubbers in the grip to come up. We're confident that we can make some further improvements to the car overnight, and look forward to a competitive weekend."
Toro Rosso-Ferrari
Sebastien Buemi (6th, 1:26.832): "I was quite happy with the way things went, even if the weather was not so good. Unlike Bahrain, I managed to complete all the sessions which is positive. Now we have to analyse the data from FP2 as it should give us a good picture of tyre behaviour in all conditions - wet, dry, high and low fuel - working mainly in race trim. We are quite confident that we can be well prepared for qualifying and the race. A good day's work."
Jaime Alguersuari (19th, 1:30.510): "It is my first time here and I think it is an amazing track. It's a pleasure to be here in Melbourne, because everyone had told me what a great event this is. Luckily the weather was with us in the first session, so I was able to enjoy learning the track and I was quick. This afternoon in the wet in the second session, of course there was a lot less grip, which is made worse by the fact this is a street circuit. All the same, driving for 90 minutes in the different conditions was very useful. A positive start."
Lotus-Cosworth
Heikki Kovalainen (18th, 1:29.860): "The second session was much better for me, because the car functioned very well and we had the differential working 100%. The car felt really really good and we were very pleased with the way it was behaving. Obviously the rain disrupted things a little bit, but everyone was in the same boat. So, we're well prepared, and we're just going to try to maintain the reliability that we've achieved so far. Overall we're in really good shape."
Jarno Trulli (20th, 1:30.695): "It's been a bit of a difficult day because we lost a bit of time this morning, and unfortunately this afternoon the track was pretty wet so we couldn't really find a good set up. When I went out I had a few issues with understeer but, though it'll be a little difficult tomorrow, we'll see what we can learn in final practice before qualifying starts."
Mike Gascoyne, Technical Director: "Obviously the second session was affected by rain, which made it difficult, but we were able to run both types of tyre and get a feeling for how they both behave. Overall not a bad day - we got through most of our program, despite the conditions in the second session, so I'm pretty pleased."
HRT-Cosworth
Karun Chandhok (23rd, No Time): "We were ready straight away when the first session started and after a seven-lap run I achieved a best lap of 1m 36.259s. It was nice to do some useful laps again this morning, and a pity I had the gearbox problem in the second session."
Bruno Senna (24th, No Time): "The morning's session was normal for us, but also served as a test session. We added a significant amount to our total mileage and thus added to our understanding of the car. The focus was on conducting aero tests, but also highlighted that we need to improve the mechanical side, how the car behaves on the bumps on this track. All in all it was a good step forward for the car and for the team operationally. Overall it was a success, and I am having fun."
Colin Kolles, Team Principal: "Today was a great job from the team. Everything went to plan this morning and was smoother than it had been when we were 'born' in Bahrain. It showed that we are fully operational. Everything ran as smoothly as possible. Most of the components of the car, chassis and suspension have now been tested effectively over a full race distance. Everyone has produced an amazing effort to make it happen."
BMW Sauber-Ferrari
Pedro de la Rosa (12th, 1:27.108): "Generally the car feels better than in Bahrain, which is good news. Of course more running would have helped to improve the set-up, but I can't complain as I had some dry running."
Kamui Kobayashi (13th, 1:27.455): "In the first session I came too close to that cone and hit it, and then I could not do any more running after I lost the new front wing. Of course I would have liked to do more laps, but the rain in the second session did not help. However, I still got a good feeling for the track. We will now concentrate and work on improving the car, the main problem is an overall lack of grip."
Willy Rampf, Technical Director: "In the first practice we lost time on Kamui's car due to a broken front wing mounting. This resulted from damage earlier to the wing. Pedro was hindered by a clutch control problem in the first free practice and also lost some time. In FP1 we tested a new rear wing. However, there was not enough time to collect sufficient data, therefore we decided to go back to the previous version and concentrate on working on the set-up of the car. Due to the mixed weather conditions in the second session we were not able to complete our programme. However, I think we found a baseline for tomorrow."
Virgin-Cosworth
Timo Glock (21st, 1:32.117): "It has been a tough day for sure. We had a gearbox oil leak this morning - a new problem which arose and we had to spend a lot of the day fixing it. This afternoon I managed to get back out on track at the end of the session but it was frustrating to lose so much track time. I think we will be playing catch-up in the morning so we have to hope things go our way in time for Qualifying."
Lucas di Grassi (22nd, No Time): "Today was a mix of a very good session in the morning and some problems in the afternoon. In P1 I was just looking to get the first feeling of the track and everything went as planned. This afternoon was a bit more troubled and as soon as we went out we experienced some problems with the telemetry box and I lost the rest of the second session. Not the perfect situation to go into a race weekend at a circuit that is new to me, but we will keep our heads up, fix the problem and go for it tomorrow."
Nick Wirth, Technical Director: "With Lucas this morning we had a good session. The target was to test the car and give Lucas plenty of acclimatisation laps - which we achieved successfully. This afternoon he had a problem with a gearbox oil line which delayed us at the start of the session. Once he got going again he was further delayed by a failed real-time telemetry sensor, and as it isn't possible to run the car without it, we had to change it. We tried to get out again before the end of the session, but unfortunately just missed out. For Timo the morning was unfortunately dominated by a problem with the gearbox oil system. We managed to solve our issues over the lunch break, but it required a lot of work and caused a delay to the start of his second session. He went out towards the end of the afternoon and was quite happy with the car, considering his lack of running. Obviously today was not as smooth as we would have liked but we've made progress since Bahrain so the team will stay focused on the positives."