MARCH 18, 2012
Grosjean earns strong praise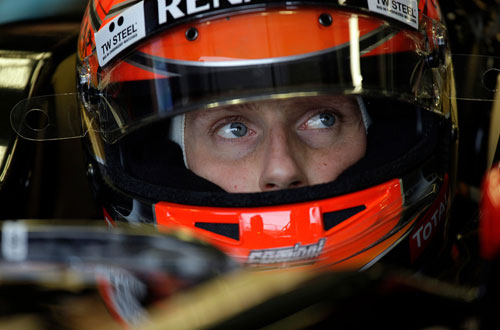 © The Cahier Archive
BY TONY DODGINS
Romain Grosjean's third place on the Australian GP grid has attracted favourable comment from some of F1's big names.
Seven times champion Michael Schumacher said he was not surprised at the Lotus's presence near the front in the light of pre-season testing.
Mark Webber admitted that he was a bit surprised that the Frenchman was quite as quick as he was, but added: "I've got to say I'm really happy for him off the back of a really tough first season in F1 (in 2009).
"He went away to some other categories -- a bit of sportscars, bit of this, bit of that -- and is also a guy who had to chip away in the winter because there was a lot of interest in Kimi, and rightly so.
"But Romain's not a driver who's bringing a gazillion dollars, it's about talent, perseverance and determination and that's something I admire. He's had a chance and has grabbed it with both hands."
Although Kimi Raikkonen failed to make it out of Q1 in Australia, there is no belief that it is down to his time away from F1. Raikkonen made a mistake on his first qualifying run and then a communication problem meant that he didn't get his second lap in.
Few doubt that given the pace demonstrated by the Lotus E20, the 2007 world champion will soon be a fixture at the sharp end of the grid again.
Other stories for MARCH 18, 2012