Australian GP 2012
MARCH 18, 2012
Race Notes - Button wins Australian GP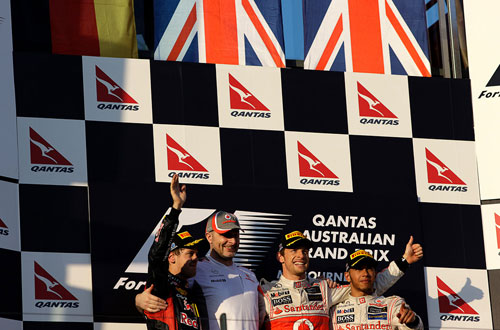 © The Cahier Archive
Jenson Button won the Australian Grand Prix in dominant style, after passing his polesitting McLaren-Mercedes team mate at the first corner after the start. Sebastian Vettel in his Red Bull-Renault finished in second place, 2.1 seconds behind, while polesitter Lewis Hamilton in the McLaren finishes third, 4.0 seconds behind the winner.
The victory is Button's third win in Melbourne.
Fourth place went to Australian Mark Webber (4.5s) in the Red Bull, followed by Fernando Alonso (21.5s) after starting 12th in the Ferrari finishes fifth, Kamui Kobayashi (36.7s) in the Sauber-Ferrari was sixth, Kimi Raikkonen (38.0s) in the Lotus-Renault was seventh, Sergio Perez (39.4s) in the Sauber was eighth, Australian Daniel Ricciardo (39.5s) scored his first career points in the Toro Rosso-Ferrari in ninth, and Paul di Resta (39.7s) in the Force India-Mercedes finished in the final points paying position in tenth place.
At the first corner Button took the lead from polesitter Hamilton. Webber suffers damage with contact with Hulkenberg while Ricciardo makes contact with Bruno Senna, the Brazilian being launched into a spin. Senna and Ricciardo both pit at the end of the lap.
Button leads Hamilton Michael Schumacher, Nico Rosberg and Vettel - Romain Grosjean is shuffled back and runs fifth.
On lap 2 Nico Hulkenberg stops on the side of the track with damage. Vettel passes Rosberg into fourth place. Pastor Maldonado and Grosjean make contact as the Williams attempts to pass the Lotus - Grosjean is out with a broken suspension.
At the start of lap 3, Button leads Hamilton, Schumacher, Vettel, Rosberg, Alonso, Maldonado, Webber, Felipe Massa and Kobayashi in tenth.
Button has a 2.5 second lead over his team mate
On lap 6 Maldonado goes wide, and losses positions to Webber and Massa.
On lap 7 Vettel runs wide at the first corner and is challenged by Rosberg and Alonso from behind.
On lap 11 Schumacher goes wide in the first corner, and Vettel passes him for third. Schumacher runs slowly, with damage to his gearbox and retires.
On lap 12 Massa is the first to stop with worn rear tyres. Rosberg pits the next lap. On lap 14 Alonso, Kobayashi and Di Resta pit.
On lap 15 Webber and Heikki Kovalainen pit.
At lap 15 Button leads Hamilton by 3.5 seconds followed by Vettel (11.2s), Maldonado (22.8s), Raikkonen (31.1s), Perez (32.9s), Jena-Eric Vergne (36.0s), Alonso (39.5s), Rosberg (41.2), and Webber (44.6s), in tenth. Kobayashi sets fastest lap at 1m32.8.
On lap 16 Button, Vettel and Maldonado pit. Vettel stays on softs while Button switches to the harder tyre. Hamilton takes the lead while Webber sets fastest lap at 1m32.3s.
On lap 17 Hamilton pits from the lead and takes on harder tyres. Webber re-sets fastest lap at 1m32.2s.
On lap 18 Vettel passes Vergne for fifth place. Button leads Raikkonen, Perez, Hamilton, Vettel, Vergne, Alonso, Rosberg, Webber and Maldonado in tenth.
On lap 20 Raikkonen and Vergne make their first stop. Raikkonen staying on soft tyres.
Hamilton is stuck behind Perez - yet to pit - and is losing ground on Button.
On lap 21 Hamilton passes Perez and is now 11 seconds behind Button. Timo Glock pits. Vettel passes Perez for third place.
On lap 22 Charles Pic pits.
On lap 23 Alonso passes Perez. Rosberg and Webber get by as well. Vergne sets fastest lap.
On lap 24 Button tells his team that he is experiencing vibrations from his tyres, Hamilton set fastest lap at 1m31.7s.
On lap 25 Perez pits for the first time. Raikkonen touches Kobayashi will passing him for ninth.
On lap 26 Hamilton sets another fastest lap at 1m31.5s.
On lap 27 Raikkonen passes Massa for eighth. Kobayashi passes the Ferrari as well.
On lap 29 Massa pits for the second time.
At lap 30 Button leads Hamilton by 9.4 seconds, followed by Vettel (12.0s), Alonso (21.3s), Rosberg (27.4s), Webber (27.7s), Maldonado (28.0s), Raikkonen (38.7s), Kobayashi (43.2s) and Di Resta (47.7s) in tenth place. Vergne runs wide, but makes his way back onto the circuit.
On lap 30 Senna pirs, followed by Rosberg the next lap.
On lap 32 Webber sets fastest lap at 1m31.0s.
On lap 34 Di Resta pits for a second time from ninth.
On lap 35 Alonso pits from fourth for his seconds stop for more harder tyres.
On lap 36 Kovalainen pits/ Button and Hamilton both pit.
On lap 37 Vitaly Petrov pulls off to the side of the track on the main straight with a steering problem. The safety car is deployed. Vettel pits for hard tyres. Pic, Maldonado, Webber and Raikkonen also pit.
On lap 38 Vettel rejoins in seconds place ahead of Hamilton. Ricciardo pits again.
On lap 39, while the Caterham is moved out of the way, behind the safety car Button leads Vettel, Hamilton, Webber, Alonso, Maldonado, Perez, Rosberg, Raikkonen and Kobayashi in tenth.
Kovalainen retires with a suspension issue.
On lap 42 the race resumes, the order remaining the same, Button opening up a lead once again. Kobayashi passes Raikkonen for ninth.
On lap 44 Button sets a new fastest lap at 1m30.2s. Kobayashi's rear wing appears to have damage.
On lap 46 Button now leads by 3.8 seconds. Hamilton sets fastest lap at 1m29.8s, less than a second behind Vettel in second place.
On lap 47 Mass and Massa interlock wheels and make contact. Senna and Massa pit. Maldonado chasing Alonso for fifth.
On lap 49 the stewards will investigate the incident after the race.
At lap 50 Button continues to lead Vettel by 3.7 seconds, followed by Hamilton (4.4s), Webber (5.5s), Alonso (12.0s), Maldonado (12.8s), Perez (16.6s), Rosberg (17.2s), Kobayashi (18.5s) and Raikkonen (19.9s) in tenth place.
On lap 51 Webber sets fastest lap. The next lap Vettel sets fastest lap at 1m29.6s.
On lap 52 Pic stops. Kobayashi late brakes Roberg, but the German passes him back.
On lap 54 Vettel sets fastest lap at 1m29.5s. Senna pits again.
On lap 55 Alonso defending fifth place from Maldonado.
On lap 57 Button sets fastest lap at 1m29.1s.
On the final lap while chasing Alonso, Maldonado losses control and hits the wall. Perez takes eighth place away from Ricciardo, and Di Resta moves into the points. Rosberg has problems on the final lap, making contact with Perez and falls to 12th place.
Button wins the Australian GP from Vettel and Hamilton.