JUNE 19, 2009
Force India sticks with the FIA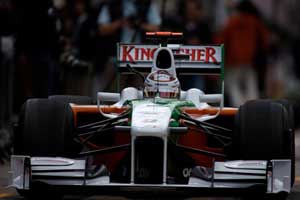 © The Cahier Archive
In response to the FOTA statement sent Thursday 18 June 2009, Dr Vijay Mallya said
We have been completely open and transparent with FOTA. We have shared the legal and commercial obligations that necessitated an unconditional entry by Force India to the FIA Formula One World Championship 2010. I think the transparency with which we acted was appreciated by FOTA but they chose to suspend us, like Williams.
We were always hoping there would be compromise between FOTA and the FIA but at midnight last night I was notified by FOTA about their decision, which already seems to be heading towards a breakaway championship or series.
We find this to be very sad and disappointing, particularly since the FIA World Championship and the Formula One brand has been developed into an invaluable property over many decades.
As of now, Force India is a confirmed entrant to the FIA 2010 Formula One World Championship and we wait to see the developments over the weekend. Until a clear direction has been identified, we do not wish to make any further comments.
Other stories for JUNE 19, 2009