MARCH 27, 2011
Ferrari expecting stronger race showing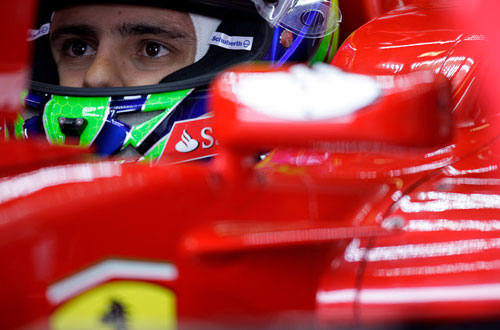 © The Cahier Archive
After a strong showing in winter testing, fifth and eighth places on the Melbourne grid for Fernando Alonso and Felipe Massa, with a deficit of almost a second and a half to Sebastian Vettel's pole time, was less than Ferrari was expecting. In the cool conditions, however, it looked as if familiar tyre warm-up issues had played a role in that, as evidenced by Ferrari using soft tyres in Q1. Tony Dodgins heard from technical director Aldo Costa post-qualifying.
Q: There seemed to be a massive attack from Fernando, the car moving a lot and going deep on the kerbs for a disappointing time. How do you explain it?
In FP3 the car was not balanced. We were doing some modifications during Friday following set-up development to correct the balance but today the car was not as expected so we went back and for qualifying more or less used the same car as Friday with no real development. Then we were struggling with the hard tyre to find the correct warm-up and grip and qualifying was conservative. We used one set of soft tyres in Q1 and then less sets in Q2 and Q3, so it was a consequence really of what happened in FP3.
Q: Ferrari has traditionally been easy on tyres but was the cool 17-degree track a key factor, as also suggested by Felipe struggling more than Fernando?
Yeah, I think so. Felipe was struggling more and it's a problem we have seen in the past and never really solved.
Q: Do you expect that in the race, when you get more heat in the tyres, you should have a much better race car?
We hope! In some seasons it has been one of our benefits to have that kind of car. We did a race simulation in Barcelona with Fernando and were very happy with the result, so yes, we hope to gain some ground.
Q: Maybe we won't see it here but when we get to hotter places it could be a characteristic that works in your favour?
Yes. In the past it has worked. Everything is different now - tyres and cars - but let's see tomorrow and understand if it is something different that we can expect in other conditions.
Q: Are you surprised by Vettel's pole position time and that Red Bull didn't use KERS. Was that a bit concerning?
We expected to be much closer to be honest. After Friday I would have said that it seemed to be very similar to last year with Red Bull a few tenths faster than ourselves, then McLaren. But then came the big difference so, for sure, a surprise for us and a surprise the lap time Vettel did, especially compared to his team mate.
Q: You've had some correspondence with the FIA recently about exhaust exits and what you can and can't do. Is that area going to be key to car development?
We wanted only to clarify the principle that defined materials for exhausts to avoid a route for us that would not have been legal. Everything is now clear and we have to push on the exhaust development just like every other direction. It will be fundamental because these days they are pretty powerful in terms of generating downforce.
Q: How has your KERS reliability been?
Very good. We don't have any issues with the KERS and are pretty pleased.
Q: Have you been surprised how good the tyre wear has been here?
Let's see in the race but Barcelona is particularly hard on tyres, especially the front left. Melbourne is a circuit where the asphalt is not as aggressive as Barcelona but we believe we are not in a situation where we can say, like last year, that one set of tyres will last for 40 laps or the hard for two races! We are still in a situation where we believe we will see quite a lot of tyre changes during the race - not as extreme as Barcelona, but for sure not as last year. But you know how F1 is -- you say one thing and then the next day everything changes!
Other stories for MARCH 27, 2011