JUNE 13, 2010
Felipe Massa given 20 second penalty after the event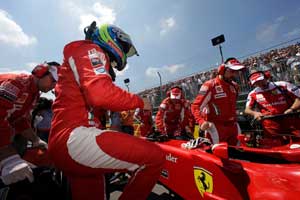 © The Cahier Archive
Felipe Massa was given a 20 second penalty after the event when the stewards of the race determined that the Brazilian driver sped in the pits on his final stop to replace his front wing after making contact with Michael Schumacher on lap 63 of the Canadian Grand Prix.
As Massa was the last driver one lap down, he remains in 15th place.
No action was taken by the stewards regarding the on-track incident.
Other stories for JUNE 13, 2010