Canadian GP 2010
JUNE 13, 2010
Race Notes - Hamilton dominates in Canada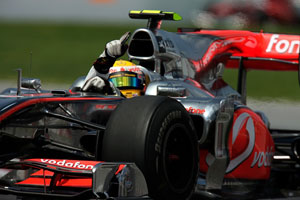 © The Cahier Archive
In a race in which tyre wear played a critical role, Lewis Hamilton won the Canadian Grand Prix, in Montreal today, leading home his McLaren-Mercedes team mate Jenson Button in second by 2.2 seconds, followed by Fernando Alonso in his Ferrari in third, 9.2 seconds behind.
It is Hamilton's second win in a row, and McLaren's second 1-2 in a row, and third of the season to date.
Hamilton and Button have now jumped into the lead in the drivers championship, Hamilton with 109, Button 106, ahead of Mark Webber with 103, Alonso 94 and Sebastian Vettel with 90. McLaren has extended their lead in the constructors championship to 215, with Red Bull in second with 193, Ferrari with 161 and Mercedes GP with 108.
Sebastian Vettel (37.8s) in his Red Bull-Renault finished fourth followed by his team mate Mark Webber (39.2s) in fifth place. Nico Rosberg (56.0s) in the Mercedes GP was sixth, Robert Kubica (57.3s) in the Renault was seventh, Sebastien Buemi (1 lap) in the Toro Rosso-Ferrari was eighth, Vitantonio Liuzzi (1 lap) in the Force India-Mercedes was ninth, followed by his team mate Adrian Sutil in the final points paying position.
Before the start Mark Webber is given a five-grid position penalty for a gearbox change overnight - he will start from seventh.
Of the top ten runners, only the Red Bull cars and Robert Kubica started with the harder compound Bridgestone tyres.
At the start Hamilton took the lead from pole. At the second corner Felipe Massa and Liuzzi touched, the Italian spinning - both going to the pits for repairs.
At the end of the first lap Rubens Barrichello and Kamui Kobayashi battle into the final chicane - Barrichello cutting the chicane while Kobayashi bounced over the curve and hit the outer wall.
At lap 3, the order was Hamilton ahead of Vettel, Alonso Button, Webber, Kubica, Sutil, Michael Schumacher, Nico Hulkenberg and Jaime Alguersuari in tenth
On lap 4 Webber passes Button for fourth place, Kubica looking to find a way by the McLaren as well. The next lap Hamilton and Vettel are fighting for the lead. Button, Sutil and Hulkenberg pit.
On lap 6 Hamilton and Alonso pit, the two run side-by-side along the pitlane - Alonso on the inside taking the position re-entering the track.
Hulkenberg hits the rear of Sutil in the hairpin and pits for a new front wing.
At lap 8 Vettel leads Webber, Kubica, Schumacher, Buemi, Alonso, Heikki Kovalainen, Hamilton, Button and Sutil in tenth.
On lap 8 Kubica pits from third and rejoins in ninth.
On lap 10 Rosberg passes Vitaly Petrov for 13th place, while the Russian then serves a drive through penalty for jumping the start.
On lap 11 Barrichello pits for a new front wing. Alguersuari pits for repairs - the two having a confrontation on the track. The next lap Schumacher pits from third place and rejoins battling Kubica for seventh place - Schumacher taking the spot, with both cutting across the grass in turn 3.
On lap 13 Webber pits from second place and rejoins in sixth place continuing on hard tyres. The next lap Vettel pits from the lead and rejoins in fifth on soft tyres. Schumacher pits for new tyres.
At lap 14 Buemi, yet to pit, leads Alonso, Hamilton Button, Vettel, Webber, Kubica, Sutil Kovalainen,Rosberg and Hulkenberg in tenth. Alonso and Hamilton battle to pass Buemi and Hamilton gets past the Ferrari in the final chicane, while Buemi pits at the end of the lap.
On lap 18 Petov pits for a new nose.
At lap 20 Hamilton leads Alonso (0.9s), followed by Button (2.9s), Vettel (5.7s), Webber (8.9s), Kubica (11.8s), Sutil (12.8s), Buemi (17.1s), Rosberg (19.3), Hulkenberg (27.5s), Alguersuari (29.4s), Schumacher (30.2s), Liuzzi (46.8s) and Massa (55.5s) in 14th place.
On lap 23 Massa pits for the second time, and rejoins in 18th. Sutil battles Kubica for sixth place, but does not get past.
On lap 25 Petrov serves a second drive through penalty for causing a collision.
On lap 26 Alonso gets side-by-side on the straight, but Hamilton pits. Alonso takes over the lead.
On lap 27 Button and Vettel pit from third and fourth places. The next lap Alonso pits from the lead and rejoins behind Hamilton in third place.
On lap 29 Sutil passes his team mate Liuzzi for 12th, while Hulkenberg pits for a drive through penalty for speeding in the pits.
At lap 30 Webber leads Hamilton by 8.9 seconds, followed by Alonso (11.0s), Button (12.7s), Vettel (14.0s), Buemi (17.9s), Kubica (28.4s), Rosberg (33.8s), Schumacher (37.9s) and Alguesuari (47.4s) in tenth place.
Pedro de la Rosa pulls off the track with an engine failure.
On lap 33 Schumacher pits for a third time for soft tyres.
On lap 35 Buemi pits from sixth place for hard tyres.
At lap 40 Webber leads Hamilton by 9.0 seconds, who puts in a number of fastest laps, followed by Alonso (10.1s), Button (14.0s), Vettel (14.6s), Kubica (36.1s), Rosberg (40.7s), Buemi (44.2s), Alguesuari (60.7s) and Schumacher (64.9s) in tenth place.
Webber's pace drops off and he radios the team informing them that his tyres are starting to go.
On lap 42 Massa pits. Hulkenberg and Sutil battle, the two appearing to touch in the final chicane. Alguersuari pits from ninth place.
On lap 44 Alonso starts to close in on Hamilton, while both drivers come up on traffic - Webber's lead is down to 3.6 seconds.
Jarno Trulli retires with a smoking car.
On lap 48 Hamilton and Alonso close in on Webber, only half a second ahead.
On lap 49 Hamilton passes Webber for the lead. Webber pits while struggling on his harder tyres at the end of the lap. The Australian switches to soft tyres - can he last for 20 laps, and can the leaders make it to the flag without stopping again?
On lap 50 Buemi pits from eighth place and rejoins in ninth.
At lap 51 Hamilton leads Alonso by 2.5 seconds, followed by Button (4.2s), Vettel (9.7s), Webber (19.3s), Kubica (45.6s), Rosberg (51.7s), Schumacher (68.8s), Buemi (74.2s) and Hulkenberg (1 lap) in tenth place.
On lap 53 Massa passes Sutil for 11th place.
On lap 55 Button, with the help of backmarker Karun Chandhok, takes Alonso for second place.
On lap 59 Hulkenberg pits from 10th and Kubica from sixth place.
At lap 60 Hamilton leads his team mate Button by 2.1 seconds, followed closely by Alonso (3.0s), Vettel (8.9s), Webber (17.4s), Rosberg (53.8s), Kubica (63.8s), Schumacher (1 lap), Buemi (1 lap) and Massa (1 lap) in tenth place.
Buemi passes Schumacher for eighth place on the run down to the first corner.
On lap 63 Massa attempts a pass on Schumacher at the final chicane and touches the German, deranging his front wing - he pits for a new nose at the end of the lap.
On lap 68 Schumacher and Liuzzi battle for ninth place. Liuzzi takes the position as Schumacher cuts the grass at the back chicane - Sutil passes Schumacher as well.
Hamilton crosses the line and takes his 12th victory at the site of his first career win in 2007.