MARCH 21, 2012
Christian Horner Q&A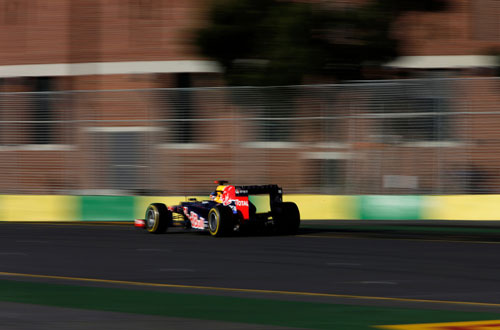 © The Cahier Archive
With an impressive start to 2012 from McLaren in Melbourne, defending double champions Red Bull Racing had to be content with second place for Sebastian Vettel and fourth place for Mark Webber. Team principal Christian Horner looked back on the race, and ahead to Malaysia this coming weekend.
Q: How do you assess the team's Australian race?
Sebastian looked very strong at various stages, more so than we did in qualifying, and Mark was the quickest driver on the track for a long period of time. That gave us an awful lot of confidence and the Safety Car came at the right time for Seb. Then we were effectively in a McLaren sandwich and it was nip and tuck between the four of them to the finish with no real opportunity to overtake. I think the DRS zones weren't particularly powerful. All in all, a very strong recovery for the team after a more difficult qualifying, plenty of points. If we'd been offered that on Saturday, we'd have taken it.
Q: Are you anticipating much more of a battle this year?
On a sample of one, it looks close. We knew McLaren was competitive but our race pace was every bit equal to them and neither of the drivers had been totally happy with their cars. We know where we need to improve, we've got plenty of things in the pipeline and take a lot of positives out of Melbourne.
Q: When do you think Red Bull will be competitive?
I didn't think we were uncompetitive in Australia! Some circuits will suit different cars with different characteristics. McLaren have always gone well in Melbourne, Lewis harried Seb most of the race last year. I think there are circuits that will affect performance but that the teams are closely matched and the championship will be a development race.
Q: Mark was slow off the line in Australia, was it a clutch problem?
From the initial feedback the clutch effectively over-engaged, over-gripped and he dropped revs.
Q: What was your view of the Mercedes DRS-activated 'F-duct?'
I think there are different interpretations. We chose not to protest it and there are teams that were more animated than us. The thing we have asked Charlie Whiting for is clarity because one could argue that it is a switch that is activated by the driver, which wouldn't be in compliance. There will be a load of debate before Malaysia.
Q: Is Charlie saying that it is not driver operated, so it's legal?
We've just requested a bit more clarity because it's a grey area. Before everyone charges off and commits loads of money to development.
Q: Mercedes seemed to struggle in the race though?
Their pace in the race didn't look as strong as qualifying but their approach seems to have been to optimise qualifying. It was an interesting race altogether though. Fernando Alonso looked pretty decent and there were some interesting abnormal performances: Maldonado was very quick in the Williams, at one time Perez was setting fastest laps, Jean-Eric Vergne was setting purple sectors, so some random events that you wouldn't expect. I think that's healthy for F1.
Other stories for MARCH 21, 2012