MARCH 26, 2011
Analysis: Red Bull's lack of KERS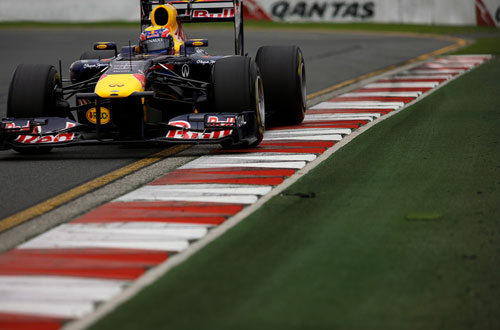 © The Cahier Archive
By Tony Dodgins
One of the most intriguing aspects of qualifying was Red Bull's non-use of KERS. The on-screen graphics used by Formula One Management revealed that neither pole position man Sebastian Vettel nor Red Bull racing team mate Mark Webber had made use of the Kinetic Energy Recover System (KERS) on the way to qualifying first and third for the Australian GP.
KERS has been reintroduced in F1 this year after first being used in 2009, when it was exploited most seriously by McLaren and Ferrari. Red Bull, which was the pace-setting team by the end of '09, did not employ the system, technical director Adrian Newey figuring that its pros were outweighed by cons in the weight and packaging issues.
Red Bull and the championship-winning Brawn GP team got away without KERS in 2009 but were fortunate that not many front-running teams employed the system, which gives an extra 80bhp for 6.7s, worth approximately 0.3-0.4s per lap. When McLaren solved its early season issues in '09 and started to hassle the leading teams, the Brawn and Red Bull drivers found themselves vulnerable against the McLaren on the opening lap. It was widely believed that every leading team would have to use the system in 2011 in order to be competitive.
Broadcaster James Allen, conducting the TV unilateral post-qualifying interviews in Australia said to Vettel: "Half a second faster than last year's pole position and you didn't even use the KERS button!"
Vettel's answer did not address the KERS question but later, in the conference for the written media the world champion was asked if it was correct he had not been using KERS.
"We didn't use it in qualifying, that's correct," he said.
Pushed as to why, he added: "Not fully charged." Which may have been the truth but not the whole truth.
The sobering reality for the rest was that, with his pole position margin to second-placed Lewis Hamilton 0.78s as things stood, if Vettel had used KERS it stood to be a full second or more. The pressing question, of course, was why Red Bull hadn't used it. And whether they would be vulnerable off the startline in the race?
Webber did not elaborate. "We didn't run it today for reasons we will keep inside the team," he said.
It has since emerged that the Red Bulls may only be fitted with a very small KERS intended to solve problems of vulnerability on the opening lap. Much of the weight and bulk of the other systems surround the rapid recharge battery packs that have to be run.
As McLaren's Martin Whitmarsh explained, they in themselves present cooling problems, which afflicted Hamilton, who finished his Melbourne qualifying lap with 40% of his KERS capacity unused.
"Lewis had a KERS hybrid failure which was actually a bit of a double whammy - not only do you lose the boost but it changes the brake balance too," Whitmarsh explained. There was a problem with the cooling system and if that happens the KERS batteries can cook themselves and go bang, so there's a safety mechanism that shuts it off."
The Red Bulls, meanwhile, may be fitted with a much smaller battery that is trickle charged and can only be used the once, most logically on the opening lap to defend against other cars with KERS systems. That would explain why there was no evidence of KERS being deployed by Red Bull in qualifying. It could be a neat and logical step for a team that expected its cars to start races at the front, but which preferred to do without the weight, packaging and aerodynamic compromises associated with a full-blown KERS package.
Tony Dodgins has 20 years experience in the F1 paddock and will be writing for Grandprix.com in 2011. You will be able to read his full race report at every Grand Prix on the evening of the race, starting tomorrow in Melbourne
Other stories for MARCH 26, 2011