Australian GP 2011
MARCH 26, 2011
Qualifying Report - Vettel takes stunning Melbourne pole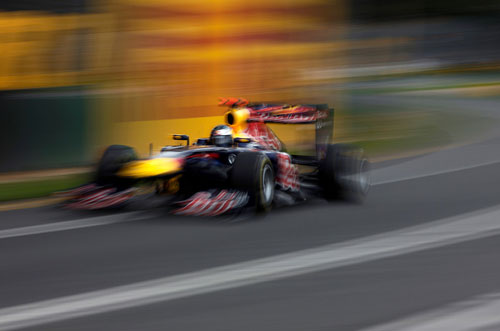 © The Cahier Archive
World champion Sebastian Vettel (1:23.529) took a dominant pole position for the season-opening Australian GP, fully 0.78s clear of Lewis Hamilton (1:24.307) who knocked home hero Mark Webber off the front row of the grid on his last run on the Pirelli soft tyre.
"It was a bit of a funny winter, the cars changed a lot and we all tried to work our way round the tyres but I think we are surprised how well they are working," Vettel said. "We have done the first step and it's a good sign for all of us in the team. We have worked hard to get RB7 where it is and that's down to the factory. It was a pleasure today but at the moment we have zero points like everyone else. The size of the margin is a surprise. We had a good feeling coming here but we didn't know for sure where we would be."
Interestingly Red Bull did not use KERS in qualifying and both Vettel and Webber were tight-lipped about that, saying only that they didn't use it for reasons that they would keep in the team.
Hamilton was thrilled to be on the front row, unexpectedly given McLaren's form in pre-season testing. "It's a massive gap to the Red Bull guys," Hamilton admitted, "but if someone had told me I'd start from the front row in Melbourne I wouldn't have believed it. The guys in the factory have done an unbelievable job."
Webber's time (1:24.395) was the best part of a second slower than his team mate, who was driving with tremendous confidence and looks unbeatable here. Jenson Button (1:24.779), the winner in Melbourne for Brawn in 2009 and McLaren last year, starts on the second row with McLaren relieved that the removed of its trick 'spaghetti' exhaust system for Melbourne has at least put the MP4-26 somewhere in the ballpark, albeit not the same one as Vettel...
Webber, as in FP3, looked a bit non-plussed by his team mate's performance. "I just couldn't do the times," he admitted. "I'm disappointed with my performance and very disappointed to get knocked off the front row. I'm a bit lost to explain the gap to Seb and I'll have to go through it, but the team has done a great job."
Ferrari, characteristically easy on its tyres, appeared to be struggling with tyre temperature. Melbourne's weather is not exactly summery and and the track temperature was down at a low 17 degrees for qualifying. Fernando Alonso (1:24.974), as usual, was not as badly affected by it as Felipe Massa and could have a better race car than suggested by fifth place on the grid, one slot better off than an impressive Vitaly Petrov (1:25.247).
Poor Petrov will inevitably suffer many pondering where Robert Kubica might have put the Renault but his best defence would be to point to Nick Heidfeld, who failed to get the sister car out of Q1 after also being slower than the Russian on Friday.
Nico Rosberg (1:25.421) starts seventh with the first of the Mercedes with Felipe Massa (1:25.599) eighth in the second Ferrari after a lurid time struggling for grip. At one point he spun the car out of T3 having just left the pits in an incident reminiscent of that which had embarrassing consequences for Karun Chandhok at Lotus on Friday.
Kamui Kobayashi (1:25.626) lines up ninth in the first of the Saubers, with team mate Sergio Perez a decent 13th for his GP debut. Sebastian Buemi (1:27.066) made it seven different chassis in the top 10 places with the Toro Rosso, pipping Michael Schumacher and team mate Jaime Alguersuari to the last Q3 slot. The message though, is loud and clear: Red Bull is still the team to beat - the winter has done nothing to change that.