MARCH 25, 2011
Analysis: A different Schumacher in 2011?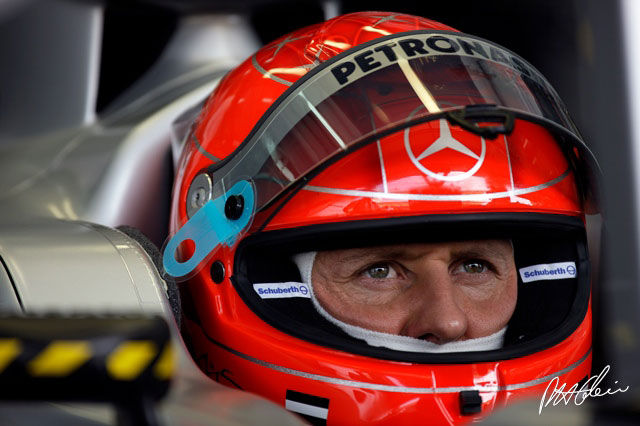 © The Cahier Archive
There was a perceptible difference in the Michael Schumacher that greeted the motor racing media ahead of the F1 season-opening 2011 race in Melbourne on Sunday.
Schumacher had a tough return to the paddock last year, when his best result was a fourth place and he was feeling his way with a new team and a car that did not suit his driving style. This time around it looks different. One Mercedes team member reported a noticeably more decisive Schumacher leading the engineering team in the manner of a man who can smell much more opportunity for success than he could last year.
Schumacher himself said: "I am looking forward to it after winter testing. Mercedes has done a huge step forward with this year's car, it is very performance-orientated and that has paid out. This weekend it is up to us to prove it, and we have a good chance. Nevertheless, we should see the truth - and that is that Red Bull is most likely the team to beat."
Schumacher seems confident that Mercedes will be in the mix. "I think we are going to play an important role. Behind Red Bull I see Ferrari, Renault look good, Williams look good, McLaren is not to be forgotten because I expect them to be stronger than they were in testing, and us. We might be able to fight for that position of being second fastest."
Schumacher added that he didn't think fighting for the championship was a realistic expectation but that podiums and a race win just might be.
"Fighting for podiums and, if things go very well, then maybe winning a race might be possible," he said. "Does that put us in a position to fight for the championship? No. You have to be careful with that one. I don't think we are ready yet for that. If the opportunity comes you can be sure we will try to catch it, but we will see step-by-step."
Schumacher denied that fighting for podiums was not enough to sufficiently motivate a man with seven world titles and 91 GP victories to his name.
"I expressed myself on that last year very clearly and it hasn't changed," he said. "The most important thing is to fight for the championship at the time we are ready for it. To be on the podium would be great, but does it really change anything? No. What does change is if we can achieve our target to win a championship together with Mercedes. That is what I want to achieve and that is what I am here for. Are we ready right now? No. Can we win a race? Maybe. Would it satisfy me? Absolutely, I would be thrilled. It is all about winning at the end of the day."
Asked about his input into the new car and whether he approached its development with as much enthusiasm as in his Ferrari heyday, Schumacher said: "You can be sure about that! I didn't care what characteristic came out of this one, but normally it's a car that is pretty sharp to drive. Last year we had the opposite and for sure that is different this year."
Evidence of Michael's added bullishness came when he was questioned about the viability of 2012, the final year of his current Mercedes contract, if things didn't work out. "It will work out..." he said, simply.
Pushed, he added: "I feel very good. I know all the people now, who to talk to, how to achieve what I'm wanting to achieve, what switches to turn. That has made a big difference. I had a three year break then there was a new team and new rules but everything is now in much more order. I am completely into the system and that's very noticeable to me."
Last year, of course, Schumacher was bested by team mate Nico Rosberg at Mercedes. With more evidently at stake given the expected increased competitiveness of the 2011 car, the psychology of the inter-team relationship take on greater significance. Asked whether it would still be satisfying to him if Mercedes won a championship, but not with him, Schumacher said: "If that happened to be the case, then that is what it is. But I don't feel it will happen..."
Message received and understood, Nico?
Other stories for MARCH 25, 2011