AUGUST 5, 2004
Williams signs Button for 2005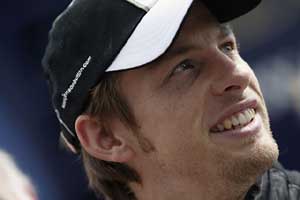 © The Cahier Archive
24-year-old Jenson Button has signed a contract to drive for Williams-BMW in 2005 and 2006.
Button became Britain's youngest driver to race in Formula 1, when he competed in the Australian GP in 2000.
Button said, "I am very pleased that I had the option to re-join the BMW WilliamsF1 Team where my Formula One career started. For the meantime, the 2004 season has my full focus and attention. Beyond this, I have every confidence that the massive investment in resources and the depth of talent at WilliamsF1 and BMW provides the best platform for my future ambitions to be a World Champion."
The British driver is currently third in the World Drivers' Championship with BAR-Honda, but has decided to quit the team and will return to the team where he began his F1 career in 2000.
With both Juan Pablo Montoya and Ralf Schumacher moving on from Williams at the end of the season, Williams has been looking to fill both seats for the 2005 season.
At the German GP the team announced the signing of Australian Mark Webber, and now the team lineup is set with the signing of Button.
Frank Williams said, "There has been a long-term relationship between the BMW WilliamsF1 Team and Jenson, indeed his Formula One career started with the team in 2000. We have maintained that relationship until the present day, and I am delighted that one of the most talented drivers in Formula One has accepted the opportunity to return to the team."
Other stories for AUGUST 5, 2004