AUGUST 5, 2004
Da Matta goes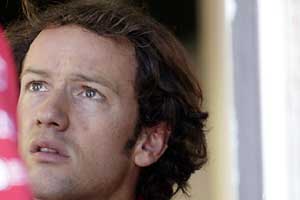 © The Cahier Archive
As we exclusively reported yesterday, Panasonic Toyota Racing has dropped Cristiano da Matta and will replace him with third driver Ricardo Zonta with immediate effect. The team confirmed the move in a press release earlier today. The team's test driver Ryan Briscoe will move up to become third driver. Da Matta will continue to do marketing activities for the team.
"We revised our original plans after we reviewed the results of the last three Grands Prix," said Toyota team principal Tsutomu Tomita. "Ricardo Zonta consistently performed very well, as indeed he also did in the first half of the 2004 season. We believe it is fair to offer Ricardo the chance to show his potential in full race conditions, before we enter into the final step of our driver evaluation for the 2005 season."
This explanation does not really sound very realistic and there seems to be little doubt that there was some kind of falling out between da Matta and the team.
Other stories for AUGUST 5, 2004