APRIL 16, 2011
Will Button rue pole attempt?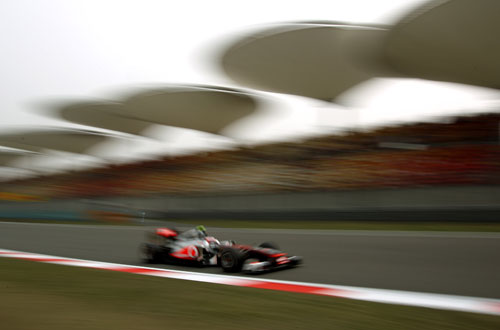 © WRI2
In Malaysia Jenson Button benefited from having more tyres available in the race, using his advantage to overcome team mate Lewis Hamilton, who flat-spotted a set of option Pirellis in qualifying. In China, however, the boot could be on the other foot after Button had two option tyre runs in Q3 to Hamilton's one.
"Yes, Lewis will have that advantage," Button said, "but om the other hand I'm starting from P2. The way it was, we were all close in Q2 and so I thought about doing two runs because I thought I had a chance of pole, but Sebastian was just too quick. In one way I'm happy that I put a second new set on and got on the front row if I'd realised he was going to be seven tenths up the road, maybe I'd have thought again.
"I'm always one to think ahead to the race but this time I was thinking about qualifying."
Unlike Malaysia, which proved to be a three or even four stop race for the majority of the field, China is expected to be two or three stops.
Other stories for APRIL 16, 2011