Chinese GP 2011
APRIL 16, 2011
Qualifying Report - Vettel claims dominant China pole; Webber 18th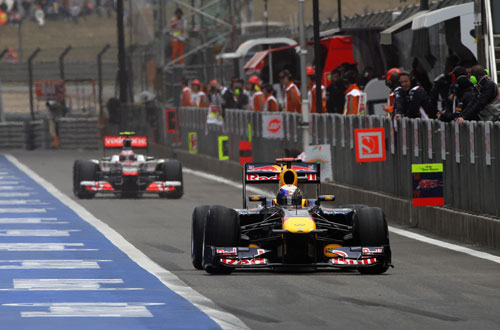 © WRI2
Sebastian Vettel (1:33.708) claimed his 18th career pole position in qualifying for the Chinese Grand prix in Shanghai. The reigning world champion has a 0.72s margin over Jenson Button (1:34.421) who pipped McLaren team mate Lewis Hamilton (1:34.463) to a front row spot.
Vettel's 0.72s margin is more like we saw at the opening race in Melbourne, suggesting that perhaps Red Bull's decision to be a bit less aggressive in the approach to qualifying in Malaysia in order to save race tyre wear, masked the potential of the car there. Back at a track where tyre wear is not so extreme, the Red Bull performance once again looks daunting for the opposition.
Qualifying was a disaster for Vettel's Red Bull team mate Mark Webber, however, the Australian eliminated in Q1. After his problematic final session of free practice, where electrical problems interrupted him, Webber lacked the pace to go through Q1 on the harder Pirelli tyre. That's what the team attempted to do but Webber was bounced out of the final Q1 qualifying slot by Pastor Maldonado's Williams.
"It's been a rotten day for Mark," said team principal Christian Horner. "After his electrical issues it was a massive effort to get the car ready for qualifying with Seb's mechanics helping as well. Mark's first run wasn't great, then his tyres weren't quite up to temperature on the second one. We thought there'd be enough performance to get through on the prime tyre, everything we'd seen from the morning suggested that, but the temperature was fairly low and he missed out." Webber thus lines up in 18th.
Vettel looks highly confident of both a Chinese GP hat-trick and a hat-trick of race wins in 2011. "We did a good job today but all it means at this stage is an extra 8m tomorrow," he smiled. "Our Friday long runs were good but I don't want to feel over confident."
Button outqualified Hamilton for the first time this year and said: "After Q2 (in which he was just 0.18s down on Vettel) it looked as if pole position was possible, which is why I used two sets of tyres in Q3, but Seb's Q3 pace was phenomenal. We've got a much better balance on the car than we had on Friday though, so I'm happy."
Hamilton, by contrast, made just one Q3 attempt as he learned from the lessons of the Sepang race in which he did not have enough good condition race tyres available. "The last race showed just how important fresh tyres are during the race and I wanted to make sure I had plenty. So for tomorrow I should be in good shape. I've got the option tyres I just qualified on plus a new set of options, new primes and another decent set of primes."
Nico Rosberg (1:34.670) starts the race on the second row of the grid for Mercedes, 0.44s clear of Fernando Alonso's Ferrari (1:35.119), the team looking much more competitive than in Malaysia, but Michael Schumacher again failed to make it out of Q2 and starts the race down in 14th place. Ross Brawn confirmed that the team was suffering overheating problems in Malaysia and had to run the car in an inefficient way, but is better placed in China. An upgrade centred around cooling and mechanical improvements will follow for Istanbul with a further aero upgrade scheduled for Barcelona.
Felipe Massa (1:35.145) lines up sixth, just three hundredths adrift of Alonso and ahead of a good effort from Jaime Alguersuari in the Toro Rosso. Rookie Paul Di Resta (1:36.190) made the best of a Force India upgrade to put the VJM04 eighth on the grid and continue his 100% qualifying record against team mate Adrian Sutil - a good way to celebrate his 25th birthday. He will be looking to maintain his 100% points scoring record in the race.
Sebastian Buemi (1:36.203) was just five hundredths behind his team mate with the second Toro Rosso and starts ninth, ahead of Vitaly Petrov. After a Q2 time that was fourth quickest and as good as the Ferrari Q3 pace, the Russian was unfortunate to lose the hydraulics at the end of the session, bringing out a red flag and causing a mad scramble for everyone else trying to get in their second Q2 runs. Nick Heidfeld, as in Australia, is again faced with having to come through the field from a poor starting slot - 16th.
The first of the drivers with freedom of tyre choice is Adrian Sutil, who starts ahead of the Saubers of Sergio Perez and Kamui Kobayashi. On this evidence though, once again it is hard to see past the reigning world champion in terms of outright victory.