APRIL 8, 2023
Vietnam and South Africa on course to join F1
Vietnam and South Africa have emerged as strong candidates to join the 2024 Formula One World Championship calendar.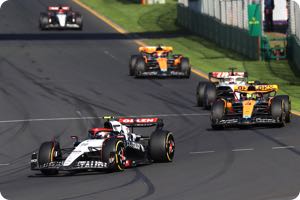 By Luis Vasconcelos
Vietnam and South Africa have emerged as strong candidates to join the 2024 Formula One World Championship calendar.
Stefano Domenicali continues to push to extend the number of events to at least 25 for next season. For Vietnam this would be the first ever Grand Prix, as the scheduled 2020 race was cancelled due to the outbreak of Covid-19, while for South Africa this would mark a return to the calendar after 31 years, as the last Formula One race held in Kyalami was back at the start of the 1993 season.
The chances of the Vietnamese Grand Prix being revived have suddenly gone up, with news that Stefano Domenicali made a stop in Hanoi on his way down to Australia.
This was the Italian's first direct contact with the newly installed authorities of the southeast Asian country - the President, the Prime Minister and the Mayor of Hanoi, who dealt with Chase Carey to secure a place in the 2020 calendar before the Covid-19 pandemic forced the cancellation in the first part of the season, have all been replaced in the last three years.
Domenicali had with him Luis Garcia Abad, who was until a couple of years ago, Fernando Alonso's personal manager, having hired the Spaniard to help him deal with new promoters all over the world.
The pair were tight lipped about the results of their negotiations with the Vietnamese, but it's worth noting that last December the permanent part of the circuit that was going to host the first Vietnamese Grand Prix - the other half being run in Hanoi's streets - finally hosted an event - in this case was an open run organized by Honda Vietnam, and there are plans afoot to start running addition competitions there, so the country's appetite for motor racing seems to be warming up for the second time in five years.
As for South Africa, local sources assured us that after seeing private investors fail to reach an agreement with Formula One to get the Grand Prix back on the calendar this year, the Pretoria-based government has decided to take matters into its own hands and has agreed to pay the $50m in promoters' fees that the sport is demanding to go back to Kyalami.
With the expected economic impact of getting the Grand Prix to the outskirts of Johannesburg being estimated to raise over $250m, it's clear for the South African authorities see this as a perfectly sensible investment, so the last hurdle in the way of a return of Formula One to the country is the safety of Kyalami's last corner, that requires quite a bit of work to be done to get the track homologated by the FIA.