APRIL 8, 2023
Verstappen theatens to quit F1
Max Verstappen has threatened to leave Formula One at the end of his current contract with Red Bull, that expires at the end of 2028.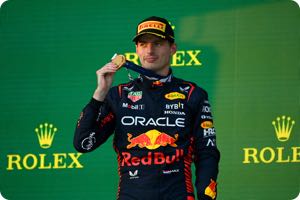 By Luis Vasconcelos
Max Verstappen has threatened to leave Formula One at the end of his current contract with Red Bull, that expires at the end of 2028.
The Dutchman said in Melbourne, during the Australian Grand Prix weekend, that if "they keep changing everything and putting more of these sprint race weekends in the calendar" that he will quit the sport.
The double World Champion has never been a fan of the Sprint Race format and doubled down on his criticism of such events in Melbourne, explaining that, "I'm not a fan of it at all."
The Red Bull driver went on to explain that, "for me, a Sprint race is all about surviving, it's not about racing. For me, when you have a quick car, there's nothing to risk. I prefer to just keep my car alive and make sure that I have a good race car for Sunday. And even if you change the format, I don't find it's the DNA of Formula One to do these kinds of Sprint races."
"Formula One is about getting the most out of it in qualifying and then having an amazing Sunday, good long race distances. That's the DNA of the sport and I don't understand or I don't know why we should change that because I think the action has been good."
Clearly warming up to the theme, Verstappen also added that expanding the calendar to up to 25 races while increasing the number of Sprint Races is not what Formula One should be doing, from his point of view: "I think when we're going to do all that kind of stuff, the weekend becomes even more intense and we're already doing so many races. So, I think that is not the right way to go at it."
"I understand, of course, they want to make every day exciting, but then I think maybe it's better to just reduce the weekend, only race on Saturday and Sunday and make those two days exciting, because we're heading into seasons where you have at one point 24/25 races, because that's where we're going to head into, and if we then start adding even more stuff, it's not worth it, for me anyway."
"I'm not enjoying that. And how do you get even more action is about getting the cars closer, getting more teams to be able to fight for the win. And I think, naturally, the show will be great. If we have six, seven teams already fighting for a win, that will be insane. Then you really don't need to change anything."
Verstappen has long stated that, "I want to do other things in my life while I'm still young enough to enjoy them and do them well", so his threat to quit the sport should be treated with care by Stefano Domenicali and his team.
However, it's worth remembering that other top drivers, like Lewis Hamilton, also insisted, after five or six seasons in Formula One, they wouldn't be racing for much longer and ended up racing until their forties, so just because the Dutch driver is now threatening to quit in five years' time, that doesn't mean he'll actually walk away from the sport, especially if he's still winning as often as he's doing now.