MARCH 18, 2016
Vettel hopes Margherita wears crown in 2016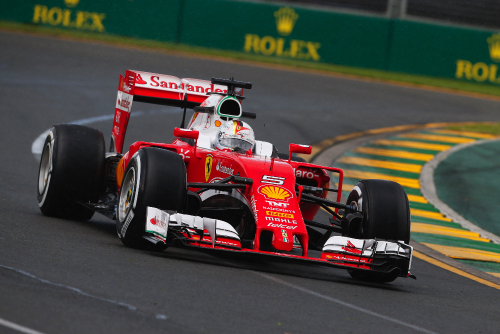 © Active Pictures
Sebastian Vettel's 2016 car is named after a crown-wearing queen, not a pizza.
"It is not about pizza," the German insisted to Bild newspaper, after international reports said Vettel's traditional female name for his Ferrari - 'Margherita' - was a nod to his favourite topping.
"Margherita was an Italian queen, and we hope that at the end we can also put a crown on this car," he added.
Vettel is not the only one hoping.
"We have one goal before us," Ferrari president Sergio Marchionne said at the Modena university on Thursday. "To bring the title back to Maranello.
"I don't know when it will happen, but I want to assure you that we will try to do it right away."
The Italian team's intentions are at least clear, as it emerged in Melbourne that Ferrari spent more development 'tokens' on its radically improved power unit than any other manufacturer over the winter.
Even Bernie Ecclestone, who mere days ago slammed the sport he runs, has changed his tune and now expects Ferrari to challenge Mercedes' dominance.
"It was what I believed was going to be the position this year but I can see I was wrong from the results of testing and some other information I've been happy to receive concerning Ferrari," he told F1 business journalist Christian Sylt.
"I'm confident that we are going to see some good racing this year," Ecclestone was quoted as saying by City A.M.
But former F1 team owner Eddie Jordan rubbished any suggestion that Mercedes' position at the top of the tree is going to be suddenly challenged.
"That's just dreaming," he told Auto Bild, "just like the assumption that suddenly Honda is going to do wonders for McLaren. Bullsh*t!
"Mercedes' lead is immense," Jordan insisted.
(GMM)
Other stories for MARCH 18, 2016