JANUARY 18, 2023
Verstappen, Wolff say Red Bull could have 2023 edge
Both Max Verstappen and Toto Wolff agree that Red Bull may keep its nose ahead in 2023.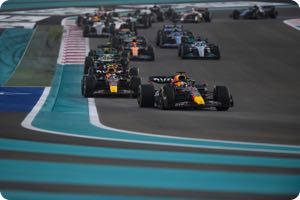 Both Max Verstappen and Toto Wolff agree that Red Bull may keep its nose ahead in 2023.
Dutchman Verstappen has won the past two world championships back-to-back, including a dominant display in 2022 with the all-new chassis rules.
"When there is a rule change like that, there will always be teams that get it right straight away and those that have a harder time making the change," he told Speed Week.
"If you are right from the start, you only have to make small corrections. But if you get it wrong, you sometimes have to start all over again.
"In the turbo hybrid era, it took us years to get everything in order and now the step to these wing cars is comparable. Those who got off to a good start can build on that, and anyone who was in trouble will need a while."
A case in point is the previously-dominant Mercedes, whose 2022 car was the only one with a radical 'no sidepod' design.
"We were surprised no one else found this loophole," the team's technical director Mike Elliot told Auto, Motor und Sport. "Once you go down that road, it's very hard to copy anything else."
Elliot says Mercedes now has "a good theory" as to how to make the same basic concept work in 2023, but admitted: "Unfortunately in Formula 1, you can never know everything."
Mercedes boss Toto Wolff agrees with Verstappen that Red Bull has a clear head-start for the new season.
"There is no doubt that when you start half a second late, it is difficult to catch teams as strong as Red Bull or Ferrari," he told Italy's Autosprint.
"For the new year we have to be realistic about our expectations. I think we have a good starting point, but let's not take it for granted because we could also see the kind of gap we had at the end of last season," added Wolff.
"But I do believe that there is still so much potential in our car and its philosophy that maybe we will have a very big and steep development curve in the months to come."
(GMM)