DECEMBER 27, 2022
Top ten drivers of 2022 - #6 Lando Norris
Grandprix.com's Top Ten Drivers of 2022 - #6 Lando Norris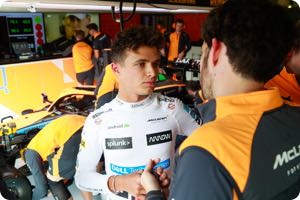 By Luis Vasconcelos
Such was the dominance of the top three teams in this first year of brand-new technical regulations that only once a driver from another team managed to get to the podium in the course of the season, that driver was Lando Norris, whose third place in Imola was just rewards for the excellent championship he had. Always on his on in the battle for "best of the rest" in the points table, Norris finished the year 30 points ahead of his nearest rival and almost single-handedly kept McLaren the fight for P4 in the championship right until the last race of the season.
His demolition of the highly rated Daniel Ricciardo is a bit of a mystery for all, for the Australian seemed a shadow of the driver we knew at Red Bull and Renault, but regardless of the veteran's struggles, it's clear that going up against Norris in a McLaren is a tall order, such is the level and consistency of his performances.
Once again whenever there was a bit of a wet track, Norris was capable of punching above his weight and, on top of that, he managed to put the McLaren MCL36 in the second row of the grid in no less than three occasions, another proof of his tremendous speed.