DECEMBER 27, 2022
Interview - Max Verstappen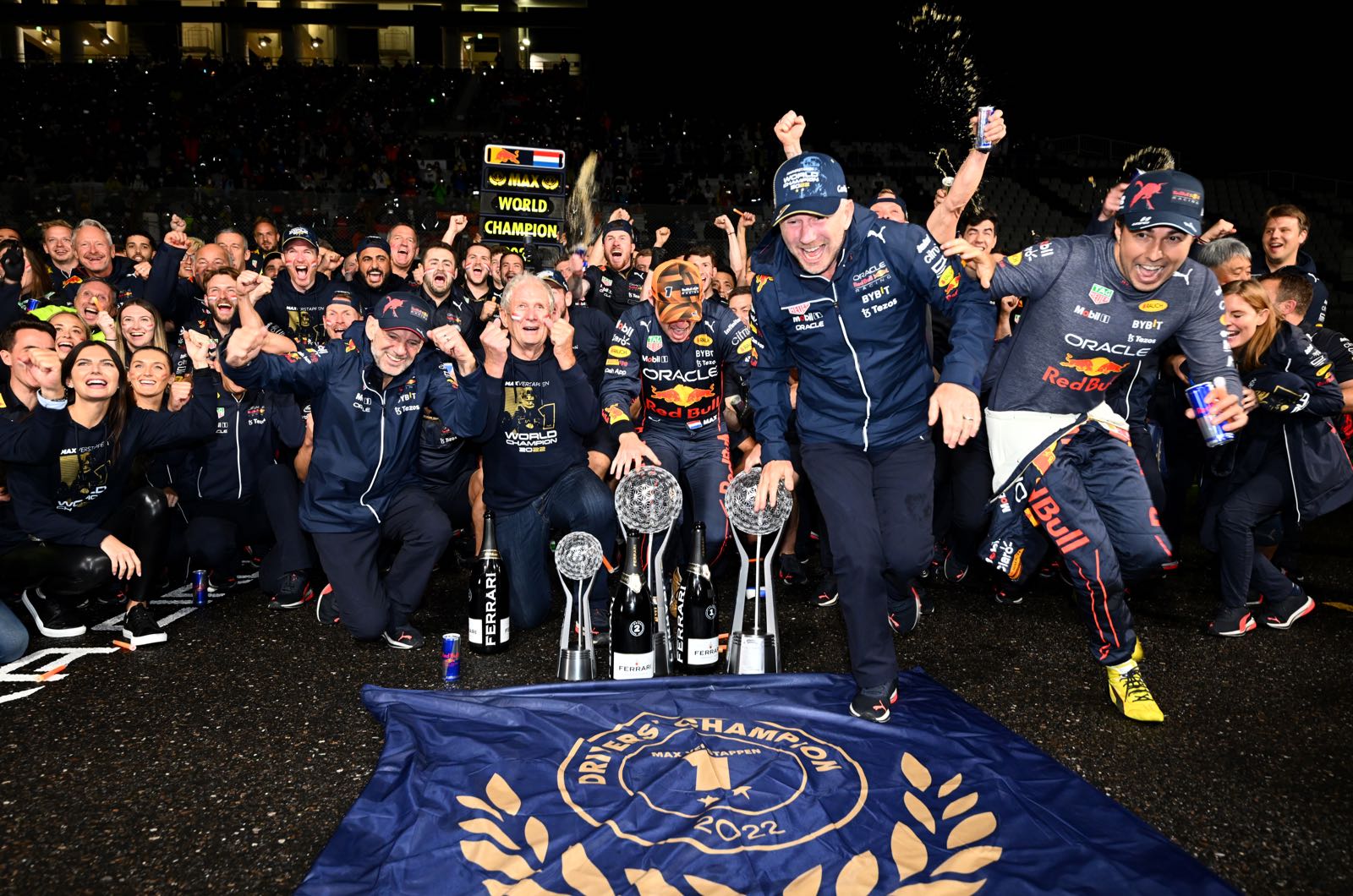 © Red Bull
"The emotions are very different!"
By Luis Vasconcelos
The contrast between Max Verstappen two Formula One World Championships couldn't be bigger. While in 2021 the Dutch secured the title by passing Lewis Hamilton half a lap from the end of the season, following a tremendously controversial decision by the Race Director - a wrong decision that cost Michael Masi his job - this year the Red Bull driver breezed to the title with 15 wins in the 2022 Grand Prix season, securing the crown early in October, when he won the shortened Japanese Grand Prix.
No wonder, then, he felt this title quite differently from his first one: "Yes, totally different emotions, but that's because of the whole season being very different anyway. Already starting with completely different cars and a completely different way of racing."
"And then the amount of races we've won, because they've all come in a really different way. Last year it was all qualifying dependent. That's normally how you would win a race. Now, even with some engine penalties, it's possible to be coming back to the front. It's been a very enjoyable year and a very special year, which will be very hard, I think, in the future for myself to match. That's why I think we really have to appreciate it and really enjoy it. We were enjoying it already but now we can probably enjoy it a bit more."
Still, Verstappen admitted that, "the first title is always the most emotional but this one is definitely the better one, just in terms of performance." One year later, Verstappen admits that in 2021, "all the way to the last race was probably the worst kind of feeling. At the time I didn't think we were the quickest anymore, so that also doesn't help. And this year, it has just been very, very different in emotions, from the start, all the way through the year."
"Both are beautiful and both are nice to experience. It's nice to have the pressure on and having to perform at your limit every single lap, but not for too many years in a row, so I was very happy with the year we had this time around."
After a shaky start of the season, with two DNF's in the first three races, Verstappen and Red Bull managed to turn things around quite quickly, so much they were already leading the championship after the Spanish Grand Prix, the sixth race of the season.
Before long, the Dutchman was on a roll, but when asked when he felt the title couldn't escape him, he points to a particular weekend as the turning point of his season: "It's a very good question. I don't really know, don't remember. The Imola weekend was very good, like we had a really strong weekend. And then, of course, the gap was slowly reducing."
"That's normally always a good sign, but we couldn't afford any more retirements. In the end the gap was very big, so we could have had retirements but, at the time, after already two DNFs so early on in the year, we turned it around very quickly. But honestly, I don't really remember what race I thought that it was back on, but I think for us, as a team, Imola was a very important weekend, to have that kind of result."
While Christian Horner has spent a lot of time praising Verstappen's driving, some observers have put most of the credit for his success down to the RB18's superiority, but that doesn't seem to bother the Dutchman, when asked if he felt he wasn't being given enough credit: "It's not that I feel suddenly better when people tell me I'm driving well. I judge that already for myself and I think that's the most important thing, and at the end of the day, that's what counts."
With his 15 wins and 454 points, Max Verstappen shattered two records this year but he insists the record books don't matter for him: "I want to win every race we enter, because with the package we had, winning was always possible."
"But I don't really look at these stats, I'm just very happy with the season we are having. I was never really interested in stats. I just live in the moment. I just try to - of course - do the best I can every single weekend. I try to win the races and that, for me, is the most important."
"Every single weekend when I go home, and I can say to myself that I maximised or close to that I'm happy. But a lot in Formula One depends on your whole package. We are having a great package and I'm just enjoying the moment and I'm not that interested in keeping in touch with every stat. But of course, it was an amazing season and of course I'm very happy with winning so many races."
Other stories for DECEMBER 27, 2022