APRIL 4, 2002
The future of Jenson Button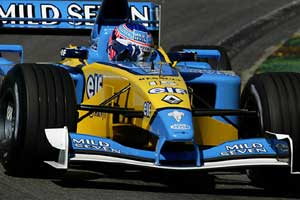 © The Cahier Archive
MOST of the Formula 1 websites were very excited on Wednesday after a report that Jenson Button's future will be decided by the British Grand Prix. The decision however is not with Renault because the team has to wait to see what Frank Williams wants to do with Button as he has first option on the Englishman's services in 2003 and 2004. That deal was agreed when Williams signed Button in February 2000.
Renault appears to be hoping that Williams will stick with his two current drivers in 2003 but much will depend on performances this year and on what Button wants to do. While things are going well enough this year, the Renault team did little to encourage Jenson in 2001 with constant sniping at his drives and rumors circulating that he was about to be replaced. It is not clear why the team has suddenly developed an interest in Button but there is sure to be more to it than meets the eye. The idea that Button will be signed again will not go down well with either Jarno Trulli or Fernando Alonso both of whom are planning to race for Renault next year. Alonso in particular would be less than impressed if his year spent as a test driver for Renault became no more than that.
Renault says that it hopes to have a deal with Button by July but this does not take into account what Jenson may decide to do. It is probably wiser for him to wait to see what happens at Williams before making any commitment elsewhere.
Other stories for APRIL 4, 2002